Thai low-cost operator Nok Air widened its full-year net loss in 2022 despite a significant increase in passenger travel revenue, as the carrier was hit with a heftier fuel bill.
For the year to 31 December 2022, Nok posted a net loss of Bt2.6 billion ($70 million), compared with a Bt1.4 billion loss in 2021, when it gained on debt restructuring.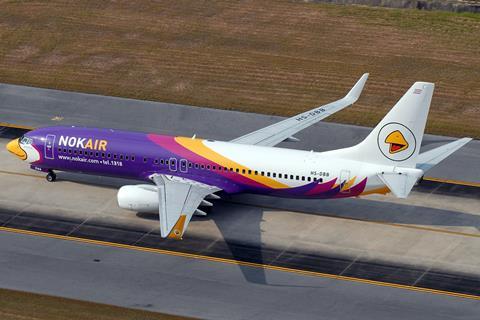 The carrier, which is still under business rehabilitation, recorded a 17.5% increase in full-year revenues to Bt7.5 billion, with passenger revenues rising nearly three-fold year on year.
Nok carried close to 5 million passengers in 2022, three times the number it carried in 2021, when pandemic restrictions were largely in place. Full-year traffic rose four-fold, while capacity doubled year on year.
Still, the airline blamed the higher cost of fuel – coupled with a rise in maintenance costs from increased flying – for steeper losses.
Full-year expenses grew 29% to Bt10 billion, led by a staggering 93% jump in operations-related costs. More significantly, Nok disclosed a "significant" six-fold jump in fuel costs to Bt3.2 billion.
The airline ended 2022 with Bt699 million in cash and cash equivalents, lower than the Bt1 billion it had at the start of the year.
In brief remarks attached to the financial results, Nok outlined several plans to "enhance sustainable operations and enhance its competitiveness". To increase revenue, the carrier says it will "explore new business channels" like cargo, as well as adjust its fares "in line with market demand".
It also promises to increase work efficiencies to keep its costs down, as well as better manage its aircraft lease costs, by improving its utilisation rates.