Thales chief executive Patrice Caine believes efficient flightpaths can immediately reduce the airline industry's fuel burn, but that regulators and the carriers themselves need to drive the initiative forward.
Caine says that improved flight trajectories could quickly contribute fuel savings in the region of 10% if they were adopted widely.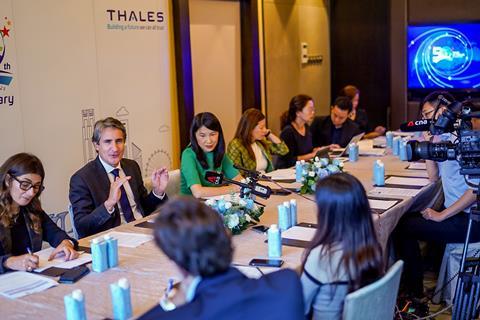 "These different features will allow airlines and civil aviation authorities to really optimise their flight trajectories," says Caine. "When we simulate all this, potentially they will save 10% of fuel consumption."
Caine made the remarks in Singapore, where Thales recently celebrated its 50th anniversary in the city state. The company marked the occasion by announcing the establishment of a new centre for Air Traffic Management (ATM), which will explore ways to improve ATM efficiency.
On the readiness of airlines and air navigation service providers (ANSPs) to better optimise flightpaths, Caine said that acceptance is growing, but that civil aviation authorities and airlines still need convincing.
Airlines need to be sold on the idea because it could involve require the retrofit of new flight management systems on legacy aircraft. But even older, less efficient aircraft will see lower fuel consumption through more efficient flightpaths.
He believes the technology for improved flightpaths is quite mature and ready to be deployed.
Caine implies that more efficient ATM is all but inevitable given growing public concerns about the environment. He also notes that other emissions-reducing technologies, such as sustainable aviation fuel (SAF), are many years away from making a major impact.
"It's short-term compared to other things that we need to do, like SAF or new engines, which are more in terms of tens of years rather than a couple of years [away]."
While he does not believe improved flight trajectories will be widely adopted in the next one or two years, he feels that their greater adoption will definitely take place within the next 10 years.
Speaking alongside Caine, Thales Singapore country director Emily Tan contends that the company's existing relationships with both civil aviation authorities and airlines positions it well to help promote the move to more efficient flightpaths.
"To do this, we need collaboration among air navigation service provides and collaboration with the airlines," says Tan.
"The ANSPs have existing systems, so how do they modify and adapt? Thales wants to bring a technological foundation to enable ANSPs to collaborate better, enable them to utilise technology, and optimise flights."