Thailand's two full-service operators, Thai Airways International and Bangkok Airways, remained profitable in the second-quarter earnings, helped by a rebound in tourism, especially following the reopening of China's international borders.
For the three months to 30 June, Thai reported an operating profit of more than Bt8.5 billion ($242 million), reversing the Bt1.3 billion loss in the year-ago period. It adds that this is its fourth consecutive profitable quarter, after it undertook business restructuring amid the pandemic.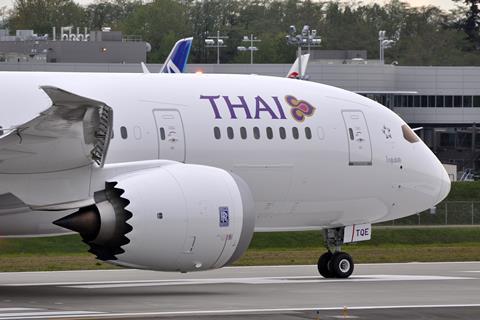 The Star Alliance carrier saw operating revenue grow 74% year on year to Bt37.4 billion, led by a two-fold jump in passenger revenues, but offset by a 40% drop in freight earnings.
Thai carried 3.35 million passengers during the quarter, about 67% more than the year-ago period. Capacity grew about 47%, while traffic leapt 93% year on year.
Costs for the quarter rose about 25% to Bt28.8 billion, with non-fuel expenses - like flight service and crew costs - leading the increase.
Thai reported a net profit of Bt2.3 billion, reversing the Bt3.2 billion loss in the year-ago period.
As for Bangkok Airways, it posted an operating profit of around Bt792 million, swinging from the Bt440 million loss in the year-ago period.
The Samui-based carrier reported a 97% jump in revenues to Bt4.96 billion, outpacing a 31% increase in expenses to Bt4.2 billion.
Bangkok Airways carried 913,000 passengers during the quarter, a 71% increase year on year. It notes that demand picked up in the quarter as the country's tourist arrivals grew.
The carrier posted a net profit of close to Bt670 million, reversing the Bt848 million loss last year.
The two carriers pointed to the reopening of China – a key source market for Thai tourism in pre-pandemic times – and the broader east Asia region, as a major factor for the improvement in profitability.
Says Thai: "The Thai economy continued to develop more in the second quarter of 2023 resulting from the recovery of the travel and tourism industry, which increased private consumption from the relaxation and removal of travel restrictions all around the world and Thailand, particularly, the reopening of China couple with lower inflation in the first half of the year despite higher energy prices."