Debate continues around whether airlines should be allowed to issue vouchers instead of cash refunds for flights cancelled due to coronavirus after a group of European transport ministers called for a temporary relaxation in compensation rules.
The practice of issuing vouchers in lieu of refunds has courted criticism among consumer groups in particular, but has been credited with giving airlines some financial breathing space to ride out the virtual grounding of passenger flights.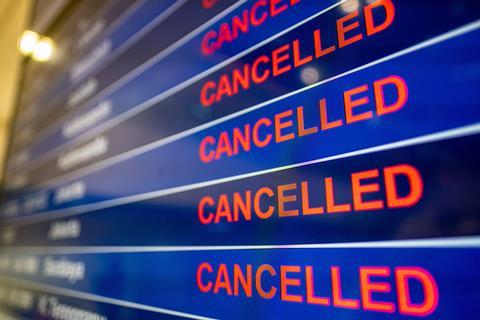 Within the European Union, compensation rules are governed by regulation EU 261. Whilst the European Commission in March said flights cancelled as a result of travel bans or because of very low demand during the coronavirus crisis should be considered extraordinary circumstances - and thus not eligible for compensation, it stopped short of giving the flexibility of issuing vouchers instead of refunds as airline bodies had sought.
During a meeting of EU transport ministers on 29 April, the issue was raised by a group of countries. In the Croatian presidency's summary of the minister's video meeting, it notes: "A number of member states expressed the need to follow a harmonised approach to air passengers rights at EU level and allow temporarily airlines to issue vouchers instead of immediately reimbursing cancelled tickets, possibly ensuring a mechanism of guarantee in case of insolvency, and to even apply a similar instrument to all types of transport."
But it adds: "Some member states opposed changes to the current rules so as not to frustrate the legitimate expectations of passengers."
Twelve countries - Belgium, Bulgaria, Cyprus, the Czech Republic, France, Greece, Ireland, Latvia, Malta, the Netherlands, Poland and Portugal and the Netherlands - are reported to have jointly written to the European Commission to request airlines be able to temporarily issue vouchers in the first instance.
"[This] will not only protect airlines and consumers in these difficult times but it will also stimulate market recovery through flexibility of travel and enhancement of consumer trust in the long-term," the letter reportedly says.
Asked about subject of passenger rights during the European Commission's midday briefing today, a spokesperson says the regulator has been asked to come up with an overall solution "on the roadmap to lifting of containment measures, guidelines the restoration of connectivity in Europe, re-establishing the freedom of movement in Europe, supporting the tourism industry and protecting passenger rights".
The spokesperson adds: "All of these hang together and we have said we will be coming forward with proposals in these different areas, I think it is very important that we do not deal with the issues piecemeal, but that we take into account these issues are interlinked and it is in that framework that we are operating."
In a research note issued earlier in April, HSBC analysts said part of the reason European airlines were demonstrating stronger-than-expected working-capital performance is because they are withholding refunds from customers through the issuing of vouchers instead. "If European regulations do not evolve to allow this behaviour, the cash outlook for airlines would deteriorate," it noted.
IATA at the end of March estimated that the airline sector had around $35 billion in tickets that were due for refund in the second quarter alone, of which European carriers account for around $10 billion.
While IATA is not disputing the need to reimburse customers, it notes that to do so in seven days, as currently stipulated, is placing airlines under extreme financial stress as they are desperate to shore up cash reserves. "We know this is controversial, but we need to look at the bigger picture," says IATA's regional vice-president for Europe, Rafael Schvartzman.
A spokesperson for Airlines for Europe says the flexibility to use vouchers has been one of the relief measures the association has been asking for since the start of the crisis.
"At the moment a clear majority of member states support the voucher solution. The passenger rights legislation mandating re-routing (not currently possible) or a 7-day reimbursement following cancellations was simply not conceived for coronavirus times.
"We are hopeful that the Commission will see the value in putting forward such a proposal given the increased liquidity constraints airlines are facing."
Article updated to add A4E comment