TUI confirms that one of its Boeing 737-800s suffered an incident during landing at Leeds Bradford airport on 20 October, stating no injuries have been reported.
"We are aware of an incident at Leeds Bradford airport this afternoon during the landing of flight TOM3551," the leisure carrier says. "There are no reported injuries."
The UK airport confirms all passengers have "safely disembarked the aircraft".
Flight-tracking data suggests the Boeing 737-800 was completing a flight from Corfu. It landed at Leeds Bradford airport at 13:53 local time.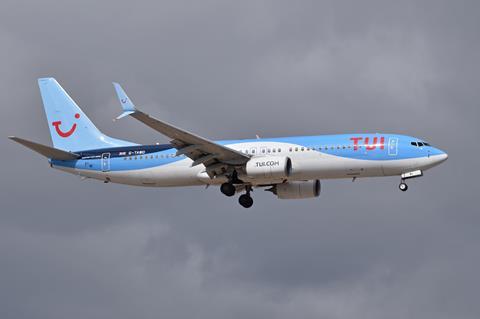 Images on social media suggest the aircraft came to a stop on grass. The extent of damages to the aircraft remains unclear.
Met Office data shows rainy conditions and wind gusts of up to 39mph at the time of the incident.
Leeds Bradford airport said it remained closed as of 18:15 local time but was working to reopen.
The aircraft involved – with registration G-TAWD – is an 11-year-old CFM International CFM56-powered example. Cirium fleets data indicates it is leased through Macquarie AirFinance.