Turkish Airlines extended its post-pandemic run of net profits for a seventh consecutive quarter, despite the period being marred by the devastating earthquakes centred in Kahramanmaras.
The Star Alliance carrier, which was among the first airlines to return to the black after Covid, posted a net profit of $233 million for the first three months of 2023. That marked an increase on the $161 million it made in the first quarter last year.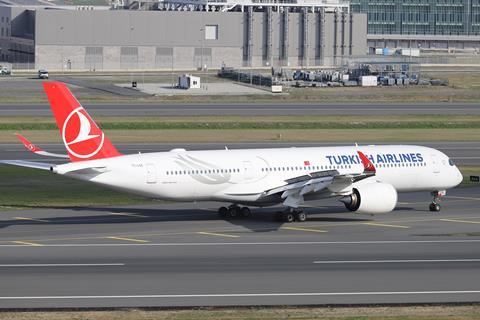 The profit was achieved on revenue of almost $4.4 billion, up 43% on the last year. That included $3.6 billion in passenger revenue, driven by a 34% increase in passenger numbers to just over 17 million. That is just ahead of the 16.7 million Turkish Airlines carried in the first quarter of 2019 before the pandemic.
The airline increased operating profits by $60 million to $241 million in the first quarter.
Turkish Airlines recently outlined aims to double passenger numbers to 170 million and its fleet to more than 800 aircraft by 2033, under a newly unveiled strategic plan which will essentially double the size of the airline over the coming 10 years.