Turkish Airlines has established a wholly-owned subsidiary to run low-cost operation AnadoluJet.
The carrier had earlier this year reiterated its intent to spin out the brand, which it established in 2008 at Sabiha Gokcen International airport.
Announcing the new subsidiary in a stock-exchange filing on 14 July, Turkish Airlines said the decision was partly aimed at "strengthening [AnadoluJet's] competitive position in the market".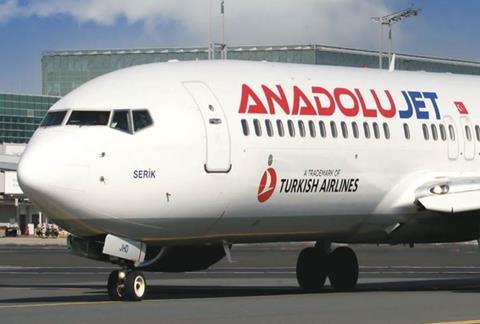 The filing indicates the unit – AJet Hava Tasimaciligi Anonim Sirketi – has been established with capital amounting to TL450 million ($16.7 million).
The AnadoluJet brand covers around 80 aircraft but today operates without its own air operator certificate (AOC), as part of the main Turkish Airlines business. The filing does not mention progress on securing a new AOC or a timescale for AnadoluJet's operations formally moving to the new subsidiary.
Turkish Airlines has been contacted for comment.
The airline said earlier this year that it was also working to spin out its Turkish Cargo operation into a separate subsidiary.
Turkish Airlines has also said that it would consider IPOs and joint ventures as strategic options for AnadoluJet and Turkish Cargo, once they are standalone operations.