Turkish Airlines' profits climbed by around one quarter for the three months ended 30 September as improving passenger revenues outweighed a drop in cargo turnover during the period.
The Star Alliance carrier's total revenues increased 4%, to $6.3 billion, in the third quarter. That was driven by a nearly 9% rise in passenger revenues to $5.5 billion, carrying 25.2 million passengers in the quarter, almost one-tenth more than the same period last year.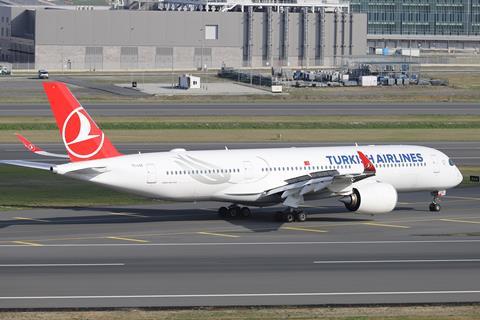 Cargo revenues, which were a major contributor to the airline's strong performance during the pandemic, slipped 30% in the third quarter, to $618 million, against the backdrop of a weaker market for air freight.
The improved revenue helped the Turkish carrier lift operating profit 10% to $1.6 billion, EBIT by 25% to $1.9 billion, and net profit by 27% to $1.9 billion for the period.
It continues the strong run of profitability Turkish Airlines has enjoyed since the pandemic and takes operating profit to $2.4 billion and net profit to almost $2.8 billion over the first nine months of the year.