Turkish Airlines continued its strong post-pandemic profits run by lifting second-quarter operating profits by 50%.
The carrier posted a profit from its main operations of $794 million for the three months ending 30 June 2023, compared with a $530 million profit at the same stage last year. Net profit rose 10% year on year to €635 million.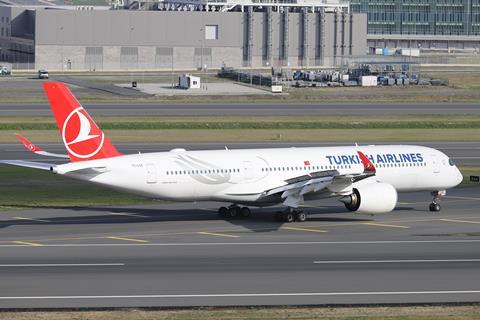 Turkish Airlines achieved the increased profit on revenues up 13.5% for the second quarter at $5.15 billion.
Profit from its main operations for the half year is running 31% above the prior year at $908 million, while net profit is almost a fifth higher at $868 million. The airline says its profits would be $370 million higher but for one-off impacts.
The Star Alliance carrier has enjoyed strong profits growth since the Covid crisis. That was initially driven off the back of a strong expansion into cargo markets, but has since been fuelled by the recovery in the passenger business as the Turkish tourism market has boomed.
Turkish Airlines' passenger numbers are up a quarter over the first half to 38.7 million on capacity increased by 22%. Passenger load factor of 81.5% in the first half is some five points higher than the period last year.
The airline's low-cost unit AnadoluJet, for which a process to spin it out under the AJet brand began last month, lifted passenger numbers from 7.2 million to 9.4 million over the first half.
Cargo revenue though fell 41% to $1.19 billion in the first half. Cargo yields have been faltering from their post-Covid highs, in part as additional bellyhold capacity returned to the market as passenger jets have been redeployed.
The group took delivery of four Airbus A320neos, one Airbus A350, a Boeing 787 and one Boeing 737 Max 8 during the second quarter, to take its fleet up to 419 as of 30 June. The carrier is close to finalising orders covering 400 narrowbodies and 200 widebodies as part of plans to double the size of the fleet to over 800 years over the next 10 years.