Turkish Airlines has reported a net profit of $1.5 billion for the third quarter of 2022, as capacity, traffic and yields – as well as costs – surged beyond pre-Covid levels.
It achieved that outcome despite "increasing geopolitical tensions, global inflationist pressure and unprecedented operational problems" in some European markets, the Star Alliance carrier said on 2 November.
Turkish's net profit and operating profit – of $1.4 billion – both represent a doubling of the profits seen for those measures in 2021, which were already slightly ahead of 2019 figures.
Total July-September revenue of $6.1 billion was up 52% on the same quarter of 2019, amid buoyant passenger income as the Covid-19 recovery continues.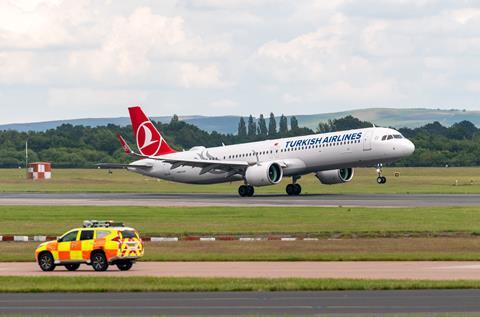 Indeed, passenger revenue of $5.1 billion was up 46% on the third quarter of 2019 and more than double that seen in 2021.
Yields were some 25% higher than those seen in 2019 and were up in every one of Turkish's main markets.
Capacity measured in available seat kilometres (ASKs) was up 16% versus the third quarter period of 2019, with passengers carried up 7.9% on a load factor more than two percentage points higher at 85.9%.
With Turkey an attractive destination for US tourists amid a weak Turkish lira and strong US dollar, huge growth in US capacity was seen in the quarter versus pre-crisis levels – continuing a trend seen throughout 2022 – with ASKs on such services up 80%.
Cirium schedules data shows, for example, that Turkish operated more than 1,200 flights to the USA in August 2022, compared with around 650 in August 2019.
Capacity to Europe was also up significantly in the third quarter of this year, by 28%, helping to more than offset falls to Asia, the Middle East and on domestic services.
While third-quarter cargo revenue fell back slightly against 2021 levels and in terms of its proportion of overall airline income, it was still up by 110% versus 2019, at $877 million.
When passenger and cargo yields are combined, the business saw yields rise by 33% in the quarter versus the same period in 2019.
Costs, however, were also up significantly for the period, with the extra capacity and traffic failing to fully absorb those increases.
Notably, fuel costs of $2.1 billion were essentially double those seen in the third quarter of 2019. They were up 71% on a unit cost basis, showing that the extra capacity accounted for a minority of the absolute increase, amid high fuel prices globally.
While other key costs – such as personnel, aircraft ownership and ANSP charges – were higher than pre-Covid levels, most were down on a unit-cost basis. An exception was ground-handling costs, which were up 37% and 17% respectively.
Overall unit costs were up 18.6% versus 2019, but were down 5.4% when fuel is excluded.
Turkish notes that it has a low exposure to its weak local currency, with the lira accounting for 7.7% of revenue and 22% of costs.