UK airline leaders have grouped together to call for the testing requirement of fully-vaccinated passengers to be dropped when the government reviews emergency measures brought in to combat the spread of the Omicron variant of Covid-19.
The emergence in late November of the new, more transmissible Omicron variant prompted countries to implement a string of tighter border controls. In the UK, that included the requirement for all visitors to provide a negative Covid test 48 hours before departure, regardless of their vaccination status. This temporary measures will be reviewed on 20 December.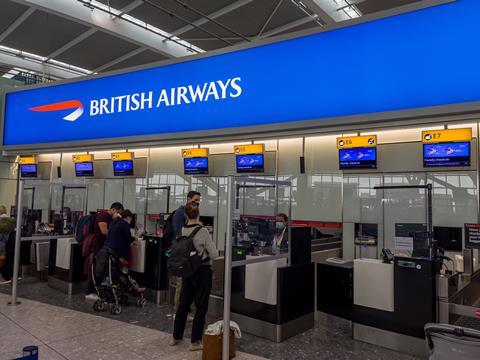 Ahead of that review, the bosses of British Airways, EasyJet, Jet2, Lognair, Ryanair, TUI and Virgin Atlantic, as well as trade body Airlines UK, have written to UK prime minister Boris Johnson to voice their concern about the "haphazard and disproportionate approach by government" to travel restrictions in response to Omicron.
"Whilst we fully recognise the need to take steps to contain the initial impact of the Omicron variant, travel has been singled out with the introduction of disproportionate restrictions," the airline leaders write.
They flag that Omicron is already circulating in the UK – the country's health ministry has said it is likely to become the dominant Covid strain in the UK by mid-December – and that the government's main tool for tackling the new variant is through its vaccination programme.
"Further, pre-departure and upon-arrival testing clearly add very little value to our Covid protection, but unnecessarily disrupt Christmas for families as well as businesses while severely damaging the UK travel industry," the leaders say.
"We and our customers feel sincerely let down, having believed a more pragmatic, evidence-led approach to travel, in line with the rest of the world, had been achieved and agreed by all concerned just a few months ago. Instead, the layering of additional travel restrictions, introduced at short notice without consultation or discernible strategy, have disrupted Christmas plans and severely undermined customer sentiment just before the crucial Christmas and New Year booking season."
They also flag their ongoing frustration at a lack of progress in tackling high costs of PCR tests in the UK. "Whilst we have heard much talk of cracking down on the 'rip-off' testing regime – charging up to £399 ($529) for a PCR test – we've seen precious little action, despite repeated promises."
Alongside the lifting of the requirement for emergency testing of fully-vaccinated passengers, they are calling for a package of "bespoke economic support measures" to be provided immediately to bridge the sector through the crisis.
During previous periods of travel restrictions, the UK had measures including its furlough support scheme in place.
"We urgently request you meet with us, to understand the problems that we and our customers are now facing because of these measures, which the Transport Secretary himself admitted risked 'killing off' the travel industry," the airline leaders write.