Ukrainian carrier Supernova Airlines is seeking to open widebody freighter services to US destinations, initially New York.
The airline is affiliated with the e-commerce and logistics companies Nova Post and Nova Global, and has a pair of Antonov An-26s leased from United Arab Emirates-based Expedition Aviation.
Nova Global says it established Supernova as its own airline.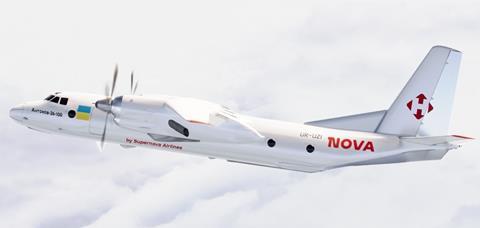 Supernova obtained its air operator's certificate in January this year, and Nova Global says first flights on behalf of its customers took place in May. The company indicates that it used an ATR 72 turbprop for the initial services.
In a submission to US authorities, the airline says it has been formally designated by the Ukrainian state aviation regulator to operate services on routes from Kyiv and Lviv to New York.
But the Ukrainian conflict means it is unable to fly currently from its home country and instead intends to fly from Rzeszow in Poland and Liege in Belgium.
It plans to operate at least three weekly transatlantic all-cargo flights, rising to five from certain European Union airports.
Supernova states that it is seeking a Boeing 737-800 freighter for the services, which will require a fuel stop en route.
But it adds that it plans to acquire "at least" two widebody freighters – the type yet to be determined – in order to conduct European-US services without technical stops.
Supernova's filing to the Department of Transportation identifies the airline's chief executive as Airbus A320 pilot and instructor Yaroslav Krasnozhon, while the shareholding is equally divided between Viacheslav Klymov and Volodymyr Popereshniuk.