United Airlines' chief executive Scott Kirby anticipates broader transatlantic travel routes will soon re-open, as governments confer about the safest way to re-initiate cross-border travel after more than 15 months of travel restrictions.
During a 29 June event highlighting a new aircraft order, Kirby says United is in discussion with the administration of President Joe Biden to allow non-US citizens and non-residents to re-enter the USA.
The USA closed its borders to tourists from Europe's Schengen Area in March 2020, soon after the World Health Organization (WHO) declared the coronavirus a global pandemic.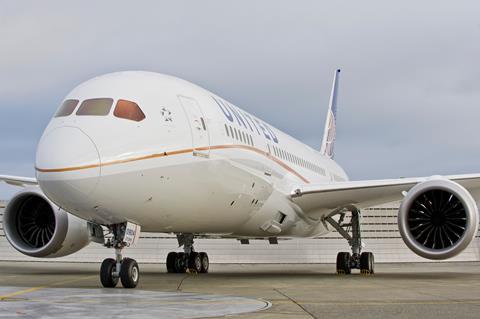 "We continue to work with the administration on the data, the science. We're encouraged to see progress on opening up the transatlantic [corridors], the data and science certainly support opening," Kirby says. "We're encouraged that the administration created a working group to work with the EU, the UK, Canada and Mexico to attempt to open those borders."
"I don't know if it'll be next week or two weeks or a month, but we're confident that they're going to be open," he adds.
In past weeks numerous European countries have opened their borders to vaccinated tourists from the USA. But the Biden Administration has not indicated when it will reciprocate. Lobby groups and trade organisations representing US airlines and the travel industry have repeatedly called on the US government to develop a plan to ease restrictions for non-citizens and non-residents.
"Europeans are broadly opening up in continental Europe," Kirby says, adding that conversations on this side of the Atlantic are also "certainly progressing that way".
United has said that customer interest spikes each time European countries relax travel restrictions. The airline recently introduced flights to Iceland, Croatia and Greece, all of which are selling better than expected, executives say.