The US Department of Transportation (DOT) has fined Eurowings $225,000 for keeping passengers on an aircraft for more than 5h after landing in Fort Lauderdale.
Some of the 268 passengers on flight EW1182 from Germany on 23 July 2019 became "restless" due to the lengthy delay, and called the police, who then freed them, DOT writes in its order dated 8 March.
The flight, which was scheduled to travel from Dusseldorf to Miami, had been diverted to nearby Fort Lauderdale-Hollywood International airport (FLL) as a result of a weather-related closure in Miami, DOT says.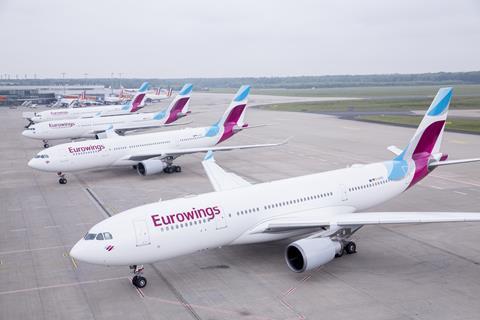 "EW1182 arrived at FLL at 5:14pm [local time] and parked at a remote stand. The flight crew requested to deplane passengers and transport them to the terminal via buses, but US Customs and Border Patrol would only permit passengers… to deplane if their checked luggage could also be offloaded," DOT writes in its order.
Ground handlers were not available to offload the luggage until 2h later. Eurowings was advised around 19:15 that the crew could start deplaning passengers. But the airline declined that offer, instead deciding to continue to Miami after all.
"For the next three and half hours, the aircraft remained on the tarmac at FLL," DOT says.
At 22:00, with the aircraft still on the tarmac in Fort Lauderdale, Eurowings was advised that the Miami airport was once again closed because of weather conditions.
"At the same time, multiple passengers onboard the aircraft became restless and called the police, who ultimately facilitated deplaning of the aircraft," DOT says. The passengers finally were permitted to leave the aircraft at 22:50.
DOT says Eurowings violated several US regulations, and did not adhere to contingency plans for lengthy tarmac delays.
In response, Eurowings contends it tried to deplane passengers but was "frustrated by CBP restrictions that required all checked baggage to be offloaded".
"While attempting to deplane passengers at FLL, [Eurowings] also prepared to continue onto MIA as an alternative, but a relief crew could not reach FLL for more than 90 minutes due to heavy traffic and severe weather," DOT adds.
"Eurowings states that it firmly believes that the tarmac delay was caused by forces beyond its control, and although it believes that no civil penalties should apply, it is entering into this consent order to avoid the suggested possibility of escalated civil penalties," the DOT order reads.
Of the $225,000 fine, half is due within 30 days and the other half is suspended but will become due should Eurowings again violate US rules, or payment terms.