The US government will regulate airlines' ancillary fees as part of a broad executive order the White House says will improve competitiveness, strengthen consumer rights and counter "the trend of corporate consolidation".
The order, to be signed by President Joe Biden on 9 July, targets several industries, including airlines, a White House fact sheet says.
It includes provisions related to ancillary fees, which typically include those charged by airlines for checked bags, reserved seats, reservation changes and in-flight internet access.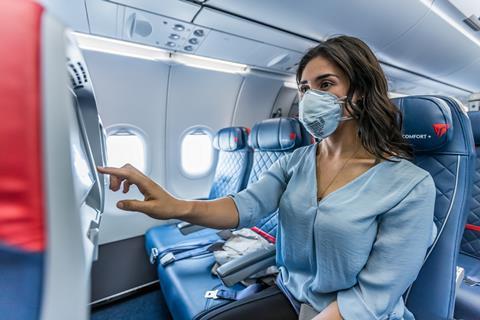 The US Department of Transportation (DOT) had in January 2017 proposed additional regulation of such fees. But in December 2017 the agency withdrew the proposal, citing an order signed by former President Donald Trump that aimed to reduce regulation.
Biden's order will make it "easier for people to get refunds from airlines and to comparison shop for flights by requiring clear upfront disclosure of add-on fees", the White House says on 9 July.
It will specifically direct the Department of Transportation (DOT) to issue "clear rules requiring the refund of fees when baggage is delayed or when service isn't actually provided – like when the plane's wi-fi or in-flight entertainment system is broken", the document says.
The agency must also write "rules that require baggage, change and cancellation fees to be clearly disclosed to the customer".
The White House cites concern about corporate consolidation.
"The top four commercial airlines control nearly two-thirds of the domestic market," the fact sheet says. "Reduced competition contributes to increasing fees, like baggage and cancellation fees. These fees are often raised in lockstep, demonstrating a lack of meaningful competitive pressure, and are often hidden from consumers at the point of purchase."
The top ten US airlines collected $35.2 billion in ancillary fees in 2018, up from just $1.2 billion in 2007, the White House adds.
Airlines for America (A4A), which represents the largest US passenger carriers, is pushing back. It maintains that the industry already offers "robust" competition and "unprecedented levels of affordability and accessibility, benefiting the customer at every level".
"There are few industries that match the airline industry's record when it comes to consumer choice, which is why air travel has transitioned from a once-in-a-lifetime opportunity to an indispensable freedom enjoyed by the vast majority of Americans from diverse economic, cultural, racial and geographic backgrounds," A4A says.
"We remain committed to transparency regarding fares and continue to be strong advocates for visibility on government taxes and fees," A4A adds.
Aviation lobby group National Air Carrier Association (NACA), whose members include US low-cost carriers Frontier Airlines, Allegiant Airlines, Avelo Airlines, Spirit Airlines and Sun Country Airlines, says it is "pleased" with the order.
"NACA's members have always believed that consumers should be fully educated about their options and have the ability to select the services they purchase when travelling," NACA says.