The US House of Representatives says it is willing to support the transportation industry as it works through its losses due to the coronavirus, including offering infrastructure grants to airports and tangible relief for aviation workers. However, it wants airlines to protect their employees and consumers before protecting their own bottom lines.
The "Take Responsibility for Workers and Families Act," published by the House Transportation and Infrastructure Committee on 24 March, places "critical guardrails on financial assistance for air carriers" as it offers the industry comprehensive aid to try to alleviate the financial stress it is suffering due to the global pandemic. Labor and consumer rights are writ large in the bill, as are environmental concerns - all issues important to the Democratic Party-led legislative chamber.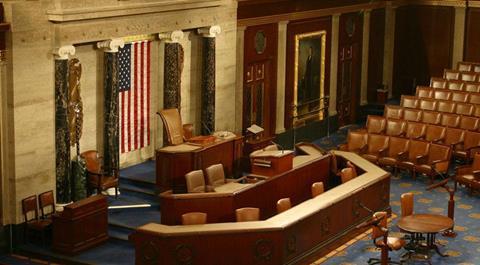 All told, the House bill is worth $2.5 trillion, and encompasses financial support for affected employees and groups across the US economy including education, the agriculture industry and transportation.
Last week, the Republican-led US Senate released a competing bill, offering $58 billion in secured loans to the aviation industry alone.
Lawmakers have reportedly been negotiating the final aid package for several days now, which both chambers of Congress must approve, and that President Trump must sign.
The House bill released on Tuesday gives airports $10 billion for infrastructure needs, which include operations, cleaning, workforce retention and emergency response, as long as they commit to retain 90% of their employees and provide relief to airport concessionaires.
The document also gives airlines the opportunity to offload older, less efficient aircraft by offering $1 billion "to eliminate high-polluting aircraft" and another $100 million for research into biofuels all in an effort "to keep the environment clean and livable".
"Among other things, [the bill] encourages development and use of sustainable aviation fuels; expands a low-emissions programme for airports; and requires air carriers receiving federal assistance to fully offset carbon emissions beginning in 2025 and reduce their own carbon emissions by 25% by 2035 and 50% by 2050," the committee writes.
About $37 billion would be provided to airline workers in grants, so as to keep 750,000 employees working and paid. Another $3 billion is for ground support and catering contractors, with an additional $21 billion in unsecured loans at an initial zero percent interest.
"All companies receiving federal aid [are required] to maintain workforce levels, worker pay and all collective bargaining agreements, and provide at minimum 14 days of paid leave throughout the duration of the crisis," the bill states. "Additionally, this provision imposes a ban on all stock buybacks, executive bonuses, golden parachutes, and federal lobbying until all federal aid in connection to COVID-19 is repaid to the federal government."
Airlines and major aerospace industry actors have been criticised for looking after their own and their investors' financial health rather than reinvesting profits into their workforces during the industry's boom in the past decade.
Airlines would also be required to follow public health authority guidelines for protecting their workers, as well as designate at least one seat on their boards of directors for labor union representation. Benefits and an hourly wage of $15 for the next 10 years are to be guaranteed.
"The provision requires all companies receiving federal aid in connection with COVID-19 to guarantee a $15 minimum wage to all its workers by January 1, 2021 and permanently limits executive compensation to a 50:1 ratio to median worker pay," the bill states.
The House also wants to make sure airline oversight is strengthened and wants to establish a new office within the Department of Transportation for this purpose.
Consumer rights would also be strengthened, with airlines prevented from price gouging during a time of national emergency.
A final bill is expected later this week.