The US House of Representatives has introduced a bill that would prevent cut-rate airlines which have been established under "flags of convenience" to operate in the US.
The chairman of the House Committee on Transportation and Infrastructure Peter DeFazio says on 11 May that the "Fair and Open Skies Act" is designed to force foreign airlines to "play by the rules" rather than offer services under conditions that would be illegal in the USA.
"In the past, we have seen foreign airlines set up under a flag-of-convenience business model to exploit weaker labour laws outside their home countries in order to save money, undercut competition, and skirt important labour standards to get a leg up," DeFazio says. "By preventing such an airline from serving the US this bipartisan bill protects American jobs from predatory and unfair competition."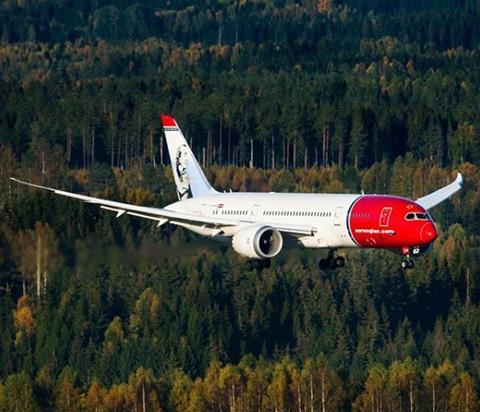 The proposal would require the US Department of Transportation (DOT) to ensure that, when issuing new foreign air carrier permits, it remains "consistent" with labour and competition provisions laid out in the US-EU-Norway-Iceland Air Transport Agreement. The requirement would apply only to non-US airlines seeking to begin US-Europe flights that fall under that treaty.
This is the third time DeFazio has introduced such measures, in an effort to stop low-cost carriers who may skirt labour laws and safety standards in the name of offering cheap transatlantic fares.
In December 2016, the DOT issued a foreign air carrier permit to Norwegian Air International (NAI), a subsidiary of Norwegian Air Shuttle. At the time, DeFazio said NAI was "Norwegian in name only", as its domicile was actually Ireland, in order to avoid Norway's labour protections, and the airline employed flight and cabin crews on cheap, short-term contracts governed under Singapore law. In 2019, he launched a second attempt at passing such legislation.
"The controversial decision to grant NAI a permit only encourages future opportunistic airlines to continue this race to the bottom in international civil aviation," the committee says today.
NAI permanently ceased long-haul flights in March 2020 as a response to the global health crisis, but more recently, Norse Atlantic Airways, another start-up airline co-owned and led by NAI's founder and former CEO Bjorn Kjos, has said it aims to offer transatlantic service.
In a letter to DOT secretary Pete Buttigieg on 2 April, DeFazio wrote that the new administration of President Joe Biden must make good on its commitment to protecting US jobs and promoting fair competition across borders.
"If Norse Atlantic Airways' business model is predicated on the same flag-of-convenience concept that we saw in the case of Norwegian and its various alter egos, the public interest demands that the department deny the carrier's application for a foreign air carrier permit," DeFazio wrote. "All the elements are in place for a repeat of the Norwegian debacle."
The "Fair and Open Skies Act" is supported by 16 aviation worker unions including the Air Line Pilots Association International, the Association of Flight Attendants-CWA, the Transportation Workers Union and the International Association of Machinists and Aerospace Workers.
"The Fair and Open Skies Act enables the Department of Transportation to cement the rights of US workers in the basic structure of this country's air services agreements," ALPA says on 11 May. "Strong worker protections have positioned the US pilot workforce to help create and contribute to a risk-predictive safety culture that has made the US air transportation system the safest in the world."