The US military has asked airlines to participate in the humanitarian and diplomatic airlift from Afghanistan.
The Department of Defense (DoD) on 22 August ordered the activation of Stage I of the Civil Reserve Air Fleet (CRAF), asking airlines to provide 18 aircraft as part of the rescue effort of US citizens and others trapped in Kabul after the government fell late last week.
"CRAF activation provides the Department of Defense access to commercial air mobility resources to augment our support to the Department of State in the evacuation of US citizens and personnel, Special Immigrant Visa applicants, and other at-risk individuals from Afghanistan," DoD says.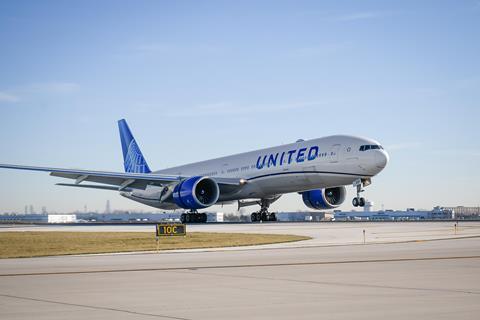 The aircraft will be provided by six major US carriers - three each from American Airlines, Atlas Air, Delta Air Lines and Omni Air, two from Hawaiian Airlines and four from United Airlines.
The aircraft will not fly into Kabul, but rather ferry passengers from interim staging areas like Germany and Qatar, DoD says.
American Airlines says it will be "ready to deploy three widebody aircraft to military bases and other secure transit points on the Arabian Peninsula and in Europe" to help with the emergency evacuation.
"The images from Afghanistan are heartbreaking. The airline is proud and grateful of our pilots and flight attendants, who will be operating these trips to be a part of this life-saving effort," the Fort Worth-based carrier says on 22 August.
United Airlines says on 22 August that it has activated four Boeing 777-300 aircraft for the airlift, and says it will have "minimal" operational impact on the company's business.
"United is proud to partner with the Department of Defense and support the humanitarian mission to fly American citizens and Afghan evacuees," the Chicago-headquartered carrier adds.
In an Instagram post, United chief executive Scott Kirby says that the airline will "call upon the expertise of several different teams within our airline to work in close partnership with the US military to safely execute this operation".
"As a global airline and flag carrier for our country, we embrace the responsibility to quickly respond to international challenges like this one," he says.
According to data provided by flight tracking website Flightradar24.com, several US aircraft appear to already be on their way to Germany and Qatar to participate in the evacuation programme.
This is the third time the Department of Defense has activated the CRAF programme. The first time was in support of Operations Desert Shield/Storm from August 1990 to May 1991, and the second was for Operation Iraqi Freedom from February 2002 to June 2003.
This time, however, is the first instance where CRAF has been activated to transport primarily civilians, United's Kirby adds.