Vietnam Airlines has joined the Association of Asia Pacific Airlines (AAPA), becoming the trade body's 15th member.
Vietnam Airlines' membership is effective immediately, and comes days after the conclusion of the AAPA's Assembly of Presidents in Singapore.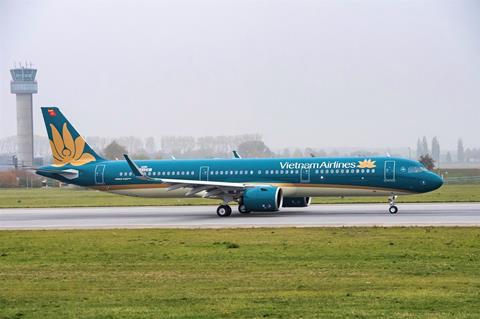 The addition of Vietnam Airlines – a member of the SkyTeam alliance – gives the association an active member in Vietnam's air travel sector. The carrier is also the second new member in two years, following Air India in 2022.
Subhas Menon, AAPA's director general, says: "Vietnam Airlines has been a renowned international carrier for years, playing a crucial role in the development of Vietnam's economy and its aviation industry."
Airline chief Le Hong Ha, who was in attendance at the 2023 assembly, says that with AAPA membership, the airline "will not only enhance its operational efficiency within the Asia-Pacific region but also elevate Vietnam national airline's global reputation".
The group's other members are Air Astana, Air India, All Nippon Airways, Asiana Airlines, Bangkok Airways, Cathay Pacific, China Airlines, EVA Air, Garuda Indonesia, Japan Airlines, Malaysia Airlines, Philippine Airlines, Royal Brunei Airlines, Singapore Airlines, and Thai Airways International.
The association will be holding its next Assembly of Presidents in Brunei, with Royal Brunei as the host carrier.
Story edited with additional information on next Assembly of Presidents.