Vietnam Airlines has cut its losses for the three months to 31 March, helped by an easing of pandemic curbs both globally, as well as within the country.
For the first quarter of the year, the airline group reported a consolidated loss after tax of D2.7 trillion ($116 million), compared to the D4.1 trillion loss incurred in 2021.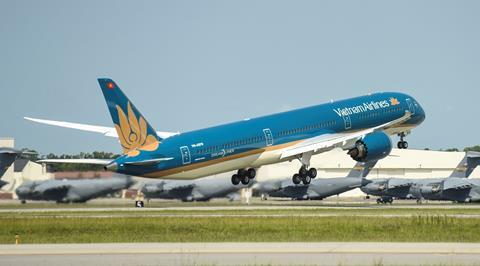 In a brief stock filing on its results, the airline says its quarterly revenue rose nearly 66% year on year, led by domestic travel revenue, which nearly doubled.
Vietnam Airlines also saw an uptick in revenue from aircraft sale-and-leasebacks.
Costs for the quarter rose nearly 24%, mainly due to a rise in fuel prices.
The airline also attributes the better financial performance to the stabilised pandemic situation in the country, which recently reopened borders to vaccinated travellers.
That, coupled with cost reduction measures, have helped the airline narrow its first-quarter loss, it states.
The airline is optimistic about its future prospects, adding that it is "preparing for conditions of future recovery and development".