Vietnam Airlines has announced plans to sell 11 Airbus A321s through a competitive tender.
The airline announced the proposal in a brief statement on its web site, and has asked for bids by 29 June 2021.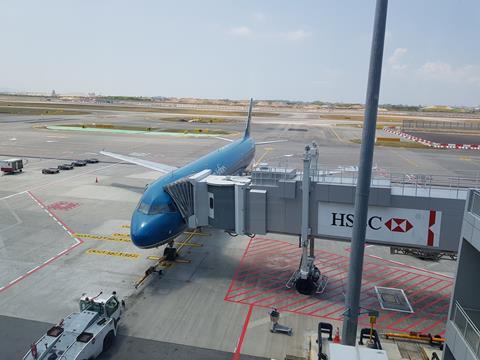 The airline did not reply to FlightGlobal's request for comment regarding the sale.
Cirium fleets data indicates that Vietnam Airlines has fleet of 107 aircraft, of which 50 are A321s. The average age of the A321 fleet is 9.9 years.
The aircraft on sale are the oldest A321s in the Vietnam Airline's fleet, with an average age of 14.4 years.
The aircraft are powered by IAE V2500s. All are listed as in service apart from the aircraft bearing the MSN 2261.
In addition to its A321s, the airline operates 20 A321neos powered by Pratt & Whitey PW1000s, with one additional A321neo on order.
A321s in Vietnam Airlines sale
MSN
Build Year
Age
2255
2004
17
2261
2004
17
2974
2007
14.5
3005
2007
14.4
3013
2007
14.4
3022
2007
14.3
3198
2007
13.9
3315
2007
13.6
3355
2008
13.4
3600
2008
12.9
3737
2008
12.5
Source: Cirium fleets data
In early May, Vietnam Airlines reported that its after-tax loss ballooned to D4.6 trillion ($200 million) for the three months ended 31 March, widening from a D1.8 trillion after tax loss from a year earlier.
The carrier attributed the losses to the coronavirus pandemic.
In April, the carrier detailed plans to shore up its financial position. These included availing itself of government support via reductions of various fees and taxes, as well as taking government loans. It made no mention, however, of aircraft sales.
Vietnam enjoyed success in its management of Covid-19 throughout 2020, enabling its airlines to continue flying domestically, although pricing pressure for local flights is very strong. A recent outbreak of Covid-19, which has seen Ho Chi Minh City locked down, will hurt prospects for the country's airlines.