Vietnam Airlines is poised to order 50 Boeing 737 Max narrowbodies, following a visit to the Southeast Asian country by US president Joe Biden.
The sale was announced in a fact sheet issued by the White House about a new "Comprehensive Strategic Partnership" between the USA and Vietnam.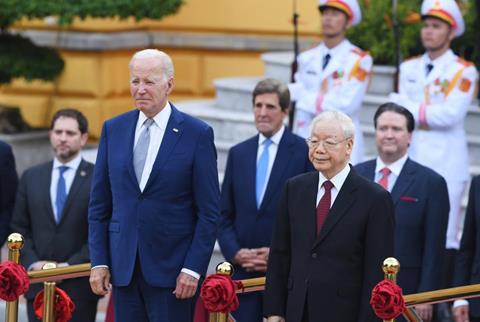 "Boeing and Vietnam Airlines will sign a multi-billion-dollar proposal acceptance to purchase 50 Boeing 737 Max aircraft that will benefit both countries by supporting U.S. manufacturing jobs and providing world-class aircraft to support Vietnam's growing travel and tourism industry as they aspire to become a leading aviation hub," says the fact sheet.
A subsequent press release issued by Boeing confirmed Vietnam Airlines has selected the 737 Max to expand it's single-aisle fleet.
Vietnam Airlines chair Dang Ngoc Hoa says: "In line with Vietnam Airlines' 2025-2030 fleet strategy and a vision to 2035, aircraft investment is a crucial project that underpins positive recovery momentum and prosperous outlook for the airline. The new narrowbody fleet will allow us to foster our overall development and extend our high-quality service on Vietnam Airlines' domestic and Asian routes, as well as modernize our fuel-efficient fleet."
Cirium fleets data indicates that Vietnam Airlines has a fleet of 95 aircraft, of which 48 are Airbus A321s with an average age of 11.9 years.
The carrier also operates 20 A321neos.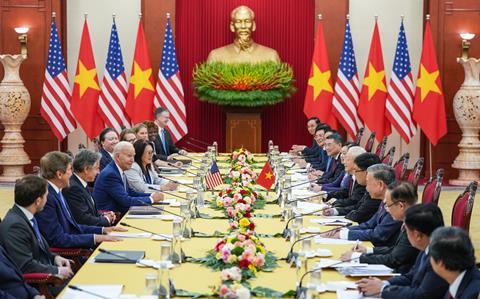 The Vietnam Airlines 737 Max announcement is not the first time Boeing has secured business with a Vietnamese carrier as part of a presidential visit.
In May 2016, Vietjet ordered 100 Boeing 737 Max aircraft during a visit by then-president Barack Obama to Vietnam. It ordered an additional 100 in February 2019 when Obama's successor, Donald Trump, visited the country.
Story updated to add Vietnam Airlines chair quote from Boeing release