The Civil Aviation Authority of Vietnam (CAAV) has identified several north Asian markets as having a slower recovery in passenger travel demand, even as international travel demand to the country picks up.
At a work review conference held on 24 July, the authority says markets such as mainland China, Hong Kong and South Korea are seeing a "slower recovery rate" compared to other regions, though it did not go into detail.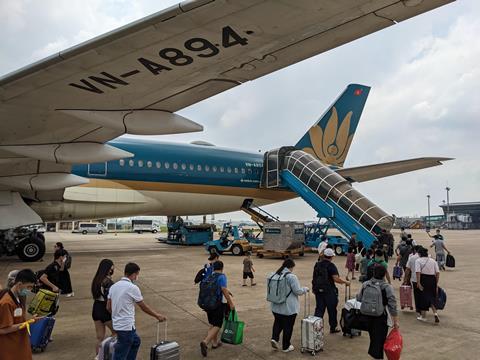 It adds that a key focus in the second-half of 2023 will be on tapping on Chinese travel demand.
This is in contrast with the traffic recovery to Thailand, Indonesia and Australia, which the CAAV notes are between 10 and 30% higher than pre-pandemic 2019. Traffic to Japan, a market which opened only late-2022, has recovered close to 2019 levels, the authority adds.
India, which Vietnamese carriers identified as an area of network opportunity while China remained shut, is also "very fast growth", the CAAV states. In 2022, Vietnamese carriers – especially low-cost operator Vietjet Air – ramped up flying to India from key Vietnamese hubs.
According to CAAV data, overall international traffic in the first six months of this year has recovered to around 72% that of 2019 levels.
Domestic traffic, meanwhile, is now 8% higher than pre-pandemic levels, though the CAAV notes it is lower than traffic recorded in 2021, the highest levels seen during the pandemic.