The UK Civil Aviation Authority has published proposals for an interim price cap on passenger charges at Heathrow airport for 2023, prompting a renewed backlash from airlines including Virgin Atlantic.
The CAA announced the interim move as it works towards finalising a five-year price-control settlement for the period ending December 2026 – expected "later in 2023" – and comes with airports and airlines at loggerheads on projections for the pace of demand recovery, and thus likely revenues, as they lobby the regulator over the level of the charges.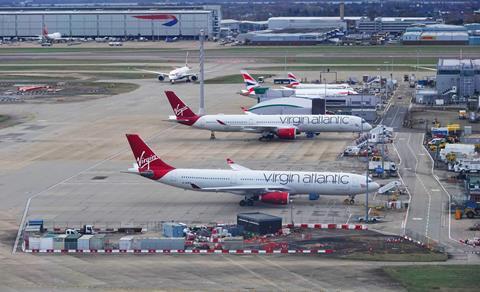 The proposed interim price cap of £31.57 ($38.74) per passenger for 2023 "is in line with our Final Proposals issued in June 2022", the CAA said on 8 December, referencing the five-year settlement. It notes that as with the interim 2022 cap, prices will be retrospectively "trued up or down" once that five-year level is agreed.
Responding to the news of the interim cap for 2023 with a strongly worded statement, Virgin Atlantic chief executive Shai Weiss suggests the CAA is wrong to base its decision on Heathrow's passenger number forecasts, which airlines claim underestimate the pace of demand recovery.
"By maintaining a pessimistic outlook for 2023 passenger forecasts, not only do customers face excessive charges but potentially also a poorer airport experience," Weiss states. "We expect the CAA to use its powers to course correct, so that accurate and realistic forecasts inform both the 2023 cap and the final determination for the regulatory control period ending December 2026."
He alleges that the proposed cap would put "the interests of a monopolistic airport and its shareholders ahead of passengers".
Speaking during the Airlines 2022 event in London on 21 November, Weiss had already said that Virgin's experiences during recent consultations on higher charges at Heathrow had prompted it to "refine our unequivocal support" for a third runway at the facility.
For its part, Heathrow said in October that despite underestimating the traffic outlook for 2022 on more than one occasion, it still sees a full recovery in demand some way off. "Headwinds of a global economic crisis, war in Ukraine and the impact of Covid-19 mean we are unlikely to return to pre-pandemic demand for a number of years, except at peak times," it said.
In late June, the CAA proposed a sliding scale of charges for airlines at Heathrow for the five-year period, under which the price cap would fall on average 6% annually over the coming five years in line with increased traffic, from £30.19 to £26.31 in 2026 (subject to inflation-linked increases). Charges were around £22 per passenger in 2020.
While airlines consider those charges to be too high, Heathrow had proposed they be set at £41.95 per passenger as it sought to recover losses incurred during the pandemic.
Indeed, Heathrow airport chief executive John Holland-Kaye argued in October that the CAA should look again at stimulating the long-term investment that will "deliver the smooth and predictable journeys consumer value" rather than focusing on short-term pricing.
But airline frustration with the price cap has only increased amid the operational challenges seen at Heathrow over the past few months, which ultimately led to passenger numbers being restricted.
Speaking during IATA's Global Media Day on 6 December, the association's director general Willie Walsh singled out Heathrow for criticism regarding its performance this year, citing the airport's own service-quality data and describing it as "unacceptable".