Virgin Atlantic and Rolls-Royce have completed ground tests of the 100% sustainable aviation fuel (SAF) blend they will use to power a Trent 1000-equipped Boeing 787 on a transatlantic flight later this year.
Now set for 28 November, the service linking London Heathrow and New York JFK airports will be the first transatlantic flight solely powered by sustainable fuel.
Virgin says its ambition is "to have passengers on board this flight, pending safety approvals" from the UK Civil Aviation Authority.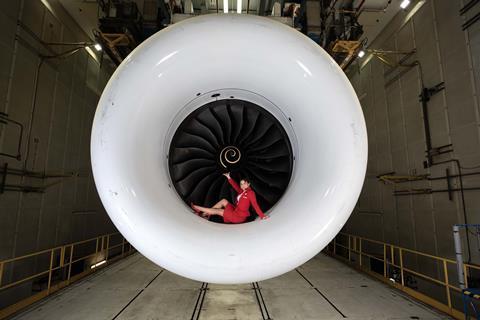 Air BP and Virent will supply the 60t of fuel required, a mixture of HEFA-derived SAF (88%) and synthetic aromatic kerosene (12%).
"Confirming that we have successfully completed the ground test of the Trent 1000 engine today, using the chosen 100% SAF blend, gives us increased confidence for the engine's performance and operation ahead of the flight this November," says Rob Watson, president – civil aerospace, Rolls-Royce.
Although the successful engine bench test is a key milestone, "further permissions and safety approvals are required for the flight to take off in November", adds Virgin.
Additional carbon dioxide savings will be made through operational efficiencies to "contribute to research and development into the non-CO2 effects of flying and provide an end-to-end life cycle analysis of the flight", the airline states.
"Any residual CO2 emissions from the flight will be mitigated using innovative carbon removals from biochar projects."
The Virgin-led consortium behind the project, jointly funded by the UK Department for Transport, includes Rolls-Royce, Boeing, the University of Sheffield, Imperial College London and Rocky Mountain Institute.
Shai Weiss, Virgin Atlantic chief executive, sees SAF as one of the main routes to aviation decarbonisation, but cautions there is currently "not enough supply".
"We need UK government support to create a UK SAF industry to allow for every single flight out of the UK to operate with 100% SAF – if we make it, we can fly it," he says.

Dominic Perry is deputy editor of Flight International but also contributes extensively to flightglobal.com. Although specialising in the coverage of the helicopter industry, he has written on most topics in aerospace – be they commercial, defence or business aviation. In addition, there has been an increasing focus on the decarbonisation of the industry and zero-emission flight initiatives.
View full Profile