IATA director general Willie Walsh has called on politicians to resolve issues with ATC performance in the USA and Europe, as fears over peak-season travel disruption become reality in some cases.
Potential disruption caused by ATC and airspace issues had been highlighted by Walsh and others – including several low-cost carriers that are not IATA members – heading into the northern hemisphere summer. Alongside the consequences of cramming more aircraft into a smaller airspace amid restrictions relating to the war in Ukraine, there were also concerns about understaffing and industrial action among air traffic controllers.
"While areas of ATC performance have improved over 2022, we remain unacceptably behind 2019 levels," the airline association's chief said on 12 July.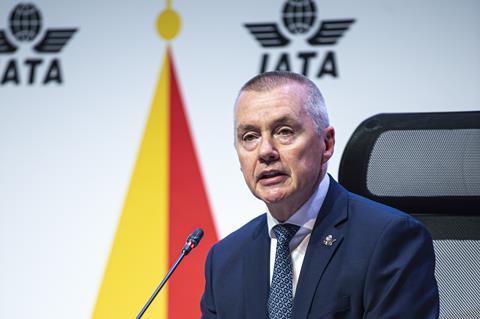 His reiteration of concerns comes despite European network manager Eurocontrol saying its latest data reflected "a positive start to aviation summer 2023".
Released on the same day as Walsh's comments, data shows that while traffic in the region was up 7% year on year in June, "air traffic flow management delays per flight were down by 8% to 3.7 minutes".
Eurocontrol acknowledges, however, that "specific areas are experiencing constraints caused by local issues such as infrastructure or staffing".
And it is those examples that appear to be of concern to Walsh.
He notes that while ATC in the USA has performed sub-optimally this year amid a shortage of controllers, the most "severe impacts" have been seen at Europe's most-congested airports, with London Gatwick performing particularly poorly, exacerbated by "local ATC resource issues".
"Gatwick is now the worst performing airport among the 31 major airports reported by Eurocontrol and sits at number 106 out of the 110 airports covered by the entire data set," Walsh says.
Low-cost carrier EasyJet – Gatwick's biggest operator and not an IATA member – earlier this month said it was cancelling 1,700 flights over the summer season, largely from the London airport, because of ATC delays.
Walsh suggests that politicians should be "held accountable" for the economic and environmental consequences of "poor ATC performance", incentivising them to "make better decisions".
He also cites a "well-known to-do list", which includes ensuring sufficient staffing, airspace modernisation – particularly through the long-discussed Single European Sky initiative – and finding ways to maintain "essential ATC services" during strike action.
On the latter point, Walsh suggested at the recent IATA AGM that the French government was "actually harming the environment" by failing to facilitate overflights during strike action in the country. Ryanair – which, like EasyJet, is not an IATA member – has also been vocal on the French situation, blaming it for most of the 900 flights it cancelled during June.
He contrasts the ATC performance this summer with that from airlines and airports, which he says have "worked hard to ensure that sufficient resources would be provided to minimise disruptions and get travellers to where they need to be on time", after last year's peak travel season was marked by operational challenges.
"It is disheartening that the politicians who were quick to criticise airlines last year have remained silent about the disruption caused by government controlled or regulated ATC providers," he states.
The ATC situation in Europe could worsen if staff at Eurocontrol strike as planned in the coming weeks. The action would involve employees from the body's Network Manager Operations Centre, which helps to coordinate Europe's airspace during busy periods.