Cathay Pacific Group rebounded to profitability in its half-year financial results, amid a strong rebound in passenger traffic following the reopening of Hong Kong's borders.
For the six months to 30 June, the airline group – comprising mainline operator Cathay and low-cost unit HK Express – was HK$8.8 billion ($1.1 billion) in the black at the operating level, reversing the HK$1.3 billion operating loss in the year-ago period, and ending three years of red ink.
Cathay had been first impacted by political unrest in 2019, followed by the coronavirus pandemic a year later, which saw its Hong Kong hub completely shut down.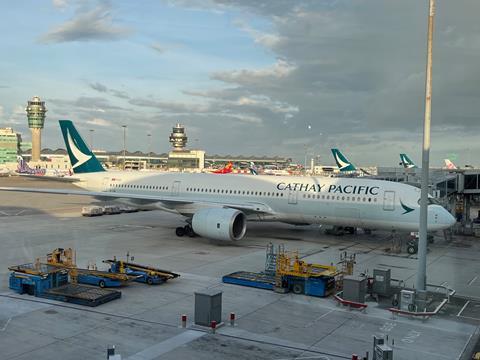 Group revenue more than doubled to HK$43.6 billion, with passenger revenues recording the sharpest jump of more than ten-fold year on year. The group attributes the increase to the "full reopening" of Hong Kong and Mainland China – mainline operator Cathay saw large increases in passenger traffic and volume, with capacity also growing significantly.
Still, the rise in passenger revenue was offset by a 10% decline in cargo earnings, despite a rise in cargo traffic.
Group expenses for the half-year grew 81% to nearly HK$38.4 billion, with the largest rise seen in inflight services, as well as fuel costs.
It also reported a net profit of HK$4.3 billion, compared to the HK$5 billion net loss.
Group chairman Patrick Healy says the half-year is a "positive period" for the airline group, amid growing demand for passenger travel. The airline group's "primary focus" will be to rebuild capacity, and it expects to operate at around 70% pre-pandemic capacity by the end of this year, and fully recover by the end of 2024.
Healy says: "While we are still only part way along our rebuilding journey, our results for the first six months of 2023 demonstrate that we are on the right track."
"[We] recognise there have been challenges across the aviation industry that have hindered our ability to deliver the highest service levels that our customers expect. We remain committed to investing in Cathay to provide a better experience for our customers, and we look forward to introducing more new cabin products in the near future," he adds.