Budget carrier Wizz Air is confident that it would be able to survive a severe deterioration in the air transport crisis, having considered scenarios in which the entire fleet had to be grounded for the second half of the year.
Wizz Air turned in a net loss of €243 million ($285 million) for the six months to 30 September, although this included a €98 million exceptional charge for ineffective hedging.
The figure is a fall of more than €610 million on its previous half-year net profit, and follows a 72% reduction in first-half revenues.
But the airline puts its total cash at €1.56 billion and insists it has the financial resilience to weather the crisis.
While its baseline assumptions involve the carrier's continuing to operate services at reduced fleet utilisation, and lower load factors, with the overall objective to fly cash-positive, the directors have also tested the business model against a "severe but plausible" downturn scenario.
This scenario envisages the entire fleet having to be grounded for the second half of the financial year, to 31 March 2021, followed by a reduced-capacity operation.
Wizz says that, even in this worst case, it is still forecasting "significant liquidity" throughout the going concern period, considering the strength of its balance sheet and a low monthly cash-burn rate of €70 million the event of a full grounding.
"Should current restrictions and lockdowns persist over winter, we believe that cash-positive flying could be minimal," it says, adding that it will continue to invest in fleet renewal over the remainder of 2020 and through 2021 in order to increase its competitiveness.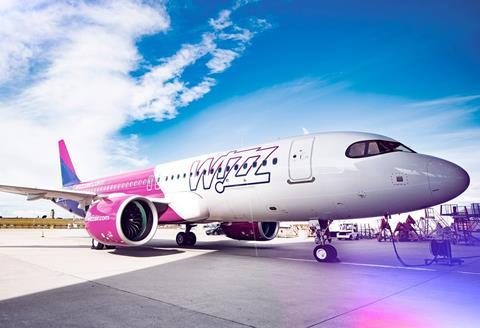 It took delivery of 11 Airbus A320neo-family jets in the first six months of the financial year, increasing its fleet to 132 aircraft. The airline says it has delayed delivery of eight aircraft over the next three years, to improve "optionality" in its fleet.
Wizz still has capital commitments to purchase 257 Airbus A320neo-family jets over 2020-26 – comprising 91 from a June 2015 order and 146 from a November 2017 order, plus 20 long-range A321XLRs ordered last year.
Twenty-nine of these aircraft are covered by sale-and-leaseback agreements, of which three are to be delivered in December this year. Another 24 will arrive in 2021 and two in 2022.
Wizz chief executive Jozsef Varadi says the airline showed "outstanding agility" over the first half, investing in long-term opportunities by unveiling 13 new bases and adding 260 routes.
"We expect conditions [over winter] to be particularly challenging with ongoing travel restrictions due to [the pandemic] as well as the seasonal drop in demand for travel," he says.
"Notwithstanding the challenges that lie ahead of us during the remainder of this fiscal year, we have laid the foundation for a swift recovery. In addition to expanding into new markets, we intend to retain all our current staff base and thereby generate a head start for when demand returns."
Wizz is not giving a forecast on full-year net profit, owing to the continuing uncertainty during the crisis, but states that protection of its liquidity position is its "top priority".
"We expect, despite the projection of a difficult winter for the industry, to end the fiscal year at a solid liquidity position with an ability to respond to surging demand within weeks as a result of a strongly diversified network and a full integrity of its supply chain," it says.