Central European budget carrier Wizz Air swung to operating and net profits during the April-June period, on record passenger numbers and high yields.
Reporting its fiscal first quarter results on 3 August, Wizz said its summer performance in operational and revenue terms had so far been "according to plan", with total quarterly revenue of €1.2 billion ($1.3 billion) representing a 53% rise year on year and "prior operational adjustments" improving its resilience.
It notes that "more resilient operations and improving productivity are expected to continue to reduce our ex-fuel unit cost", helping it to maintain its full-year guidance for a profit in the range of €350-450 million.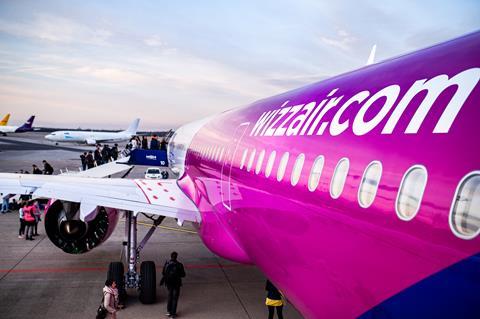 Indeed, Wizz says that the positive first-quarter performance has continued into the current quarter, although its first-half capacity growth will be moderated from a forecast of 30% down to 25%, amid "continued infrastructure and supply-chain limitations facing the industry" and recently announced Pratt & Whitney GTF engine inspections. It sees this moderated growth as "an opportunity to drive better yield given the ongoing market constraints on capacity".
Regarding the engine issues, Wizz says that 12 of its A320neo-family aircraft have been identified for inspection by the end of September.
Wizz reported a net profit of €61.1 million in its first quarter, compared with a net loss of €453 million in the year-ago period. It swung to an operating profit of €80 million in the period, from a loss of €285 million a year earlier.
Ticket revenue per available seat kilometre was some 39% higher year on year during the three months, with overall unit revenue up 21%. A load factor of 91% marks a significant increase from 85% last year, but still lags the first-quarter 2019 level of 94% – albeit Wizz's capacity measured in available seat kilometres was 64% up on pre-Covid levels and 27% higher year on year.
Wizz cites the "security of its Airbus orderbook" as it continues on a high-growth path.
The 15.3 million passengers served during its first quarter compares with 12.2 million in the same three months of last year and 10.4 million in 2019.
Wizz ended the quarter with a total cash balance of €1.8 billion – a rise of 17% year on year.
It had 182 aircraft in its fleet on 30 June, from 157 a year earlier.