Wizz Air has selected a partner and is in the process of an application to establish a joint-venture carrier in Saudi Arabia as the central European budget operator continues to develop its presence in the Middle East.
The low-cost carrier launched a string of routes from Europe to Saudi Arabia a year ago, having signed a preliminary agreement with Saudi authorities in May 2022 to investigate the expansion of airline services to the kingdom under the state's ambitious Vision 2030 programme.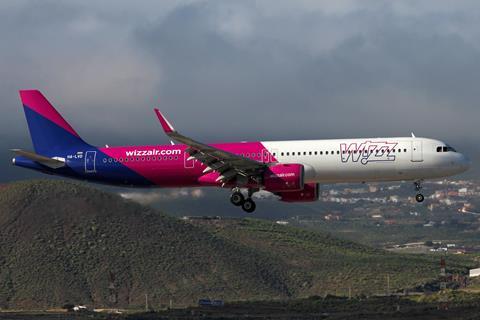 Speaking during the World Aviation Festival in Lisbon, Wizz Air president Robert Carey said: "We are now a year into our Saudi programme, that's the largest destination announcement we have ever done, 23 destinations. Overall, [we are] very happy with that and the progression we see with these markets, just like we have seen in every other market."
The carrier connects Dammam, Jeddah and Riyadh with points in Europe, as well services services from Abu Dhabi to Dammam and Madinah, Cirium schedules data shows.
The carrier established a joint-venture airline to operate its UAE flights, launching Wizz Air Abu Dhabi in early 2021, and has indicated its interest in doing likewise in Saudi Arabia.
"We've identified a partner," Carey says. "We are in the process over there right now. The regulator has put out an economic licence application process in place. We recently submitted the second part of the application, and we'll see what happens."
Wizz Air Abu Dhabi will next month launch flights to Erbil in Iraq as it continues to develop its network. "Abu Dhabi is growing up to about 12-13 aircraft this winter," says Carey. "We have expanded our network and have a really diverse set of markets from short-haul, medium-haul, flying east, flying west, north - not too much south, though we do go to the Maldives.
"So [it's] really building up nicely, and what's exciting us, is its stimulation of new traffic. We are not bringing in connecting traffic, we are bringing in point-to-point traffic. It's given us a chance to go into new markets like Saudi, central Asia, the rest of the Middle East."