Would-be Airbus A380 operator Global Airlines has recruited a division of Avia Solutions Group to refurbish the cabin of its initial aircraft.
Global Airlines says work on the aircraft, to be carried out by UK-based JetMS Completions, is set to begin in January next year.
The start-up operator says the agreement with JetMS is a "multi-aircraft deal".
JetMS Completions is located at Biggin Hill and was formerly known as RAS Completions before being acquired by Lithuanian maintenance specialist JetMS in 2021.
Global Airlines plans to open transatlantic services to US destinations, including New York, from next year.
JetMS Holdings chair Gegams Hanamirjans says the chance to work on A380s is a project "everyone in the company wanted to get involved in".
"Our priority is to get everything in place across the supply chain so we can start progressing at pace early next year on the refurbishment of the first aircraft."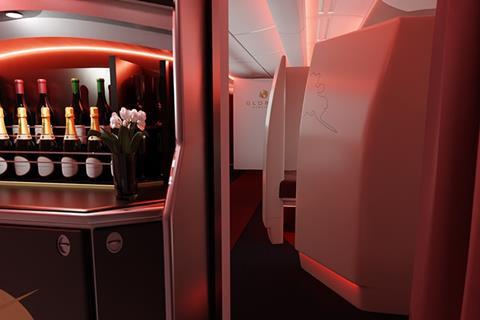 Global Airlines says JetMS will recondition the interior to a standard suitable for the commencement of flights, while the aircraft cabins will subsequently undergo a complete overhaul to a higher specification.
"I am looking forward to our first repositioning flight [of the initial aircraft to Europe] happening before the end of the year," says Global founder and chief James Asquith.
UK interiors specialist Factorydesign, he adds, has created new concepts for the initial "version one" and subsequent "version two" aircraft in the planned fleet.