China Southern Airlines will inject more capital into its subsidiary Xiamen Airlines, as part of a move to "support the development" of the latter carrier's business.
China Southern discloses that it will pump around CNY2.2 billion ($336 million) into its subsidiary, to be paid in cash and with aircraft assets.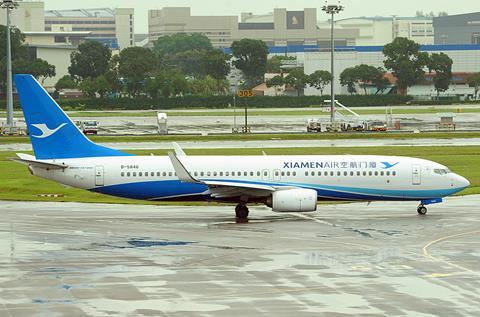 Two other shareholders of Xiamen Airlines — Fujian Investment, as well as real estate corporation Xiamen C&D — will also inject fresh capital in cash, at CNY440 million and CNY1.4 billion, respectively. The capital increase exercise is expected to be completed by 30 June 2023, states China Southern.
As a result of the capital boost, Xiamen Airlines will now see its registered capital increase to CNY14 billion, up from the current CNY10 billion.
The additional funds will be used to ease Xiamen Airlines' cashflow pressure, and to "meet the development needs of its fleet", says China Southern.
The three company's shareholding in Xiamen Airlines will remain unchanged, with China Southern still owning around 55% of the carrier, Xiamen C&D at 34%, and Fujian Investment at 11%.
Cirium fleets data shows Xiamen Airlines, a member of the SkyTeam alliance, to operate a fleet of more than 145 in-service Boeing 737-800s and -700s, as well as 12 787s.
Separately, China Southern also announced that it was divesting part of its stake in its wholly-owned freight and logistics arm CSA Logistics.
The move will involve eight other entities, which will jointly pump nearly CNY3 billion in capital into CSA Logistics. The companies involved include investment firms, logistics provider Sinotrans, as well as Zhuhai Yuanqi, a CSA Logistics employee shareholding group created to hold equity interests in the company.
Following the divestment, China Southern will now own 55% of the company.
The carrier adds that the move was part of efforts to improve its subsidiary's overall operational efficiency and competitiveness.
"At the same time, it will realise the mixed ownership reform and capital increase plan in relation to CSA Logistics and [China Southern], introduce strategic investors with synergies, and promote the integration of resources within the logistics industry and between upstream and downstream through equity cooperation, which will in turn help CSA Logistics achieve its goal of transforming into an internationally competitive modern logistics service provider," the carrier states.