Air transport workers employed within the European Union hit a record low in the first quarter of 2022 amid the continuing impact of the global pandemic on air travel demand, figures published by Eurostat show.
The figures show 325,000 people employed in air transport across the EU in the three months of 2022, the lowest number in the 14 years the data has been recorded. It compares to more than 400,000 employed in the same quarter two years ago just as the pandemic hit.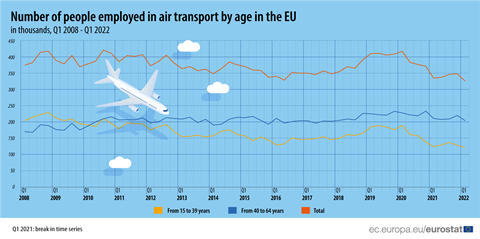 Notably younger workers, those under 40, have been more heavily impacted during the crisis. There were 121,000 in this group employed in the first quarter of 2022, down around a third on the same period two years ago and the lowest level on record.
By contrast employment within the EU of those working in air transport aged between 40 and 64 stood at 200,000. While this is down on the levels seen in the the two years before the pandemic, it is similar to the number employed across much of the last decade.
It means the number of workers under 40 account for just 37% of those employed within the EU's air transport system. This is not only the lowest share on record but in marked contrast to 2008 when younger staff comprised of Europe's air transport labour force.
Following the low-point in demand in early 2022 airlines rapidly brought back passenger capacity in the second quarter but encountered major operational challenges – in part because of labour shortages as players across the system struggled to recruit staff to keep pace with the ramped-up demand.
Splitting the same Eurostat data by gender shows male and female transport workers similarly impacted over the course of the pandemic. While male workers were more heavily impacted by the initial onset of the pandemic during 2020, female labour was cut more over the second half of that year.
Overall the gender split, at 58% male workers to 42% female across the sector within the EU during the second quarter, is broadly in line with that recorded over the past 14 years Eurostat figures show.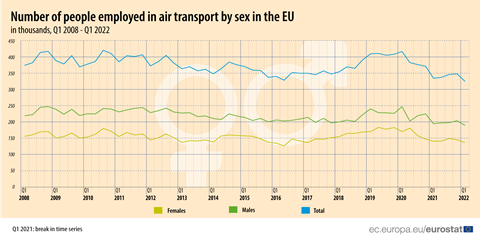 Eurostat is the statistical office of the European Union.