The future of Boeing's proposed New Mid-market Airplane (NMA) seems more uncertain than ever thanks to United Airlines' recent order for Airbus's competing A321XLR.
That deal left analysts split on the NMA, with some speculating the order suggests Boeing does not intend to offer its competing NMA.
"United's purchase of the A321XLR indicates the door is closing on a new middle-market airplane launch from Boeing," writes Bloomberg Intelligence in a 5 December research note. "Airbus sales of the A321XLR seem to doom the planned Boeing" airplane.

But another analyst, Michel Merluzeau with aerospace consultancy AIR, thinks the A321XLR's success perfectly demonstrates why Boeing needs the NMA, and why it likely will green-light the project.
"I remain positive about NMA," Merluzeau says. "All this makes a compelling case for a new Boeing" midsize aircraft.
"From a standpoint of product strategy, the absence of NMA is almost guaranteeing the loss of very important customers to the Boeing company," he adds, citing Delta Air Lines in particular.
The NMA, which industry observers have tagged the "797", has been an uncertain proposition since Boeing began discussing the concept several years ago.
As described, it would be a widebody with capacity for up to 270 passengers and 4,000-5,000nm (7,400-9,300km) range – fitting snugly between the 737 Max and 787, perfectly suited transatlantic flying.
In other words, it would replace aging 757s and 767s.
Boeing has long talked of bringing the NMA to market in the mid-2020s – just in time to satisfy airlines eager to replace older jets.
The three US legacy carriers – American Airlines, Delta and United – are thought to be among the biggest potential buyers, analysts have noted. Those airlines still operate 383 757s and 767s, according to Cirium fleets data.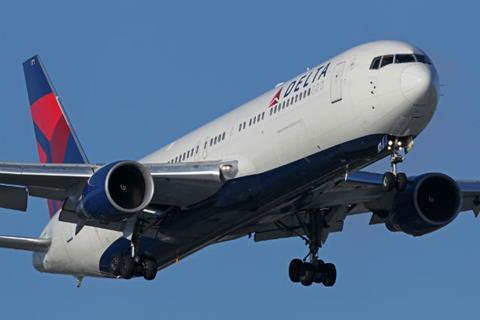 American, Delta and United have each expressed interest in the NMA – particularly Delta – but none provided additional comments to FlightGlobal.
Until the second 737 Max crash in March, observers generally expected Boeing was close to launching the NMA.
But Max changed everything, forcing Boeing to first focus on returning the all-important narrowbody to service. The Max remains grounded.
"Our focus is on returning the 737 Max to service, however, we are still working through the NMA business case and, once we complete that work, we will make a decision on whether to offer the airplane," Boeing tells FlightGlobal. "This is consistent with the gated process we've followed on previous development programmes."
Airbus swoops in with A321XLR
With NMA paused, Airbus swept in, launching the A321XLR in June at the Paris air show. That aircraft will carry up to 244 seats, have 4,700nm range and enter service in 2023, Airbus has said.
The A321XLR has proved a fast seller, with Airbus having landed 450 orders and commitments.
Such demand proves how badly airlines want a midsize aircraft and signals a shift in airline preference from a 180-seat to a 200-plus-seat narrowbody, analysts say.
"We are witnessing a great repositioning of the product line," says Merluzeau. "The heart of the market is the 321."
American became an early customer, ordering 50 A321XLRs at Paris. But those orders, conversions of existing purchase rights, were not wholly unexpected.
Industry observers viewed United's orders for 50 A321XLRs, announced on 3 December, as more ominous for the NMA. After all, United is a 737 Max customer and had no A320neo-family orders on Airbus's books.
"United was seen as a likely NMA customer, so their A321neo order is hardly a promising sign" for the NMA, Teal Group aerospace analyst Richard Aboulafia wrote in a 6 December Forbes editorial. "I have doubts about [Boeing's] proposed new midsized airplane."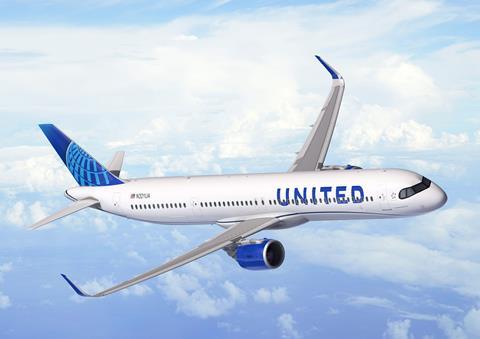 Aboulafia has long noted that widebodies have inherently higher manufacturing and per-seat operating costs than narrowbodies, which creates uncertainty about the NMA's competitive advantage against the A321XLR.
Bloomberg's research note says the American and United orders show that "two of the three largest passenger 757 operators have essentially switched" to Airbus.
Those analysts do not think Boeing will abandon the middle market. Rather, they suspect the Chicago airframer may leapfrog the NMA and move straight into developing a 737 replacement – perhaps starting with 757-sized variant
"Ultimately it might be the best way for Boeing to contest this segment," Aboulafia writes.
Bloomberg says, "We believed all along that any NMA would be wrapped up in a redesigned narrowbody… A new Boeing narrowbody would likely be designed around a higher passenger capacity, perhaps centering on 200 seats."
NMA still critical for Boeing
Merluzeau reads recent events different and thinks the NMA remains in Boeing's future.
He doubts the airframer is ready to move beyond the 737 Max, noting Boeing needs Max sales and service revenue to fund its future.
Also, the NMA has long been viewed as "bridge" aircraft that would help Boeing modernise production ahead of launching a 737 replacement.
"I believe that is fundamentally still the case," Merluzeau says. "The [NMA] is part of that transformation."
He also insists A321XLRs will not address the entire mid-market. They can replace 757s, but A321XLRs will lack the 767's passenger capacity and its ability to connect some mid- and western-US cities to Europe and Asia.
"Potentially we are dealing with an aircraft that puts more of Europe in range of the West Coast," he says of the NMA.
That is why Merluzeau suspects Delta, the only legacy carrier that has not yet jumped into the A321XRL frenzy, may see the NMA as a winner.
Delta currently flies 77 767s and 127 757s, according to Cirium data. It deploys 767s to Europe from its Atlanta hub and from several western cities, and from the western US to Asia.
"The absence of NMA would mean possibly losing Delta," Merluzeau says. "It is an aircraft that is going to more expensive, but it will become the standard in that middle of the market."