US lawmakers pressured Federal Aviation Administration (FAA) chief Steve Dickson on 11 December to ensure his agency thoroughly reviews allegations of safety and quality problems at Boeing's 737 production plan in Renton, Washington.
Dickson faced pressure in response to testimony from a former Boeing production manager who alleged safety concerns warrant a temporary shutdown of the Renton facility. The testimony came during a hearing held by the US House Committee on Transportation and Infrastructure.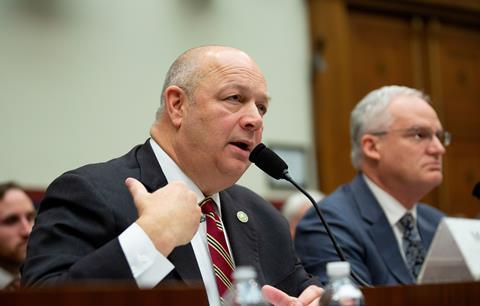 Former employee Ed Pierson, who was senior production manager at the Renton plant in 2018, also urged the FAA to issue an airworthiness directive requiring airlines to inspect 737 angle-of-attack (AOA) sensors.
Pierson, who had previously brought his concerns to Boeing and regulators, does not allege that production issues caused either of two 737 Max crashes, but expresses concern about faulty AOA sensors.
Dickson, who also testified, told lawmakers his agency is already investigating conditions at Renton. FAA aircraft certification executive director Earl Lawrence also agreed to interview at least 10 Boeing Renton workers and report back to Congress.
Boeing tells FlightGlobal it took Pierson's concerns seriously and remains devoted to improving safety. "As was explained to Mr. Pierson at the time, Boeing senior leadership was aware of production challenges with the 737 line in 2018, and devoted significant attention and resources to addressing those issues and maintaining production quality," the airframer says.
"Boeing closely monitors production quality data, as well as other data related to the overall health of the production system… All Boeing aircraft are subject to rigorous inspection."
The company also calls "unfounded" any link between the Max crashes and factory conditions.
"None of the authorities investigating these accidents have found that production conditions in the 737 factory contributed in any way to these accidents. And the suggestion of such a linkage is inconsistent with the facts that have been reported," it says.
The House hearing, which came as the FAA seeks to conclude its Max review, was part of the chamber's ongoing review of Boeing, the 737 Max and the FAA.
Pierson, a former Navy squadron commander, described a period in 2018 during which Boeing was working to increase 737 production from 47 to 52 aircraft monthly, with the goal of eventually hitting 57 per month.
Like Airbus, Boeing was then working to overcome a production backlog amid record narrowbody demand.
"During this timeframe the 737 factory was in chaos," Pierson tells lawmakers. "The 737 factory needs to be thoroughly investigated and closely monitored by regulatory authorities… on a continuous basis."
Pierson says the factory lacked sufficient skilled workers, and employee fatigue became a concern. Quality issues jumped by more than 30%, and many issues involved potentially dangerous wiring problems, he said in written testimony.
"By June 2018, I had grown gravely concerned that Boeing was prioritising production speed over quality and safety," Pierson says.
He brought his concerns to former 737 programme vice-president and general manager Scott Campbell in June 2018, recommending Boeing halt production temporarily to enable a "regroup".
Pierson elevated his concerns to Boeing chief executive Dennis Muilenburg in December 2018, after the October crash of a Lion Air 737 Max. Pierson discussed issues with Boeing's then-general counsel Michael Luttig.
He says the company seemed to not take his concerns seriously.
After the Ethiopian Airlines Max crash in March, Pierson or his attorney contacted NTSB chair Robert Sumwalt, the FAA's Dickson and US Department of Transportation secretary Elaine Chao.
Pierson wanted his concerns addressed and shared with the 737 Max crash investigators.
His written testimony to the House committee recommends that the FAA investigate the Renton site and require airlines to inspect AOA sensors.
Those instruments feed the 737 Max's Maneuvering Characteristics Augmentation System – the software implicated as a factor contributing to the two crashes.
The original, Boeing-supplied AOA sensor on the Lion Air aircraft had been found faulty and replaced with another faulty sensor from a third party. An AOA problem is also suspected as contributing to the Ethiopian crash, though that investigation remains ongoing.
Lawrence says the agency is already investigating alleged quality issues at Renton, and he commits to interview 10 Renton workers.
He also notes the FAA has taken all 737 Max certification work back from Boeing, including that of individual aircraft.
"You have my commitment we are looking into those problems," Dickson says.
Boeing tells FlightGlobal it is "deeply committed to encouraging employees to raise issues" and provides several reporting avenues.
Pierson's ability to speak directly to senior executives in 2018 "illustrate the seriousness of Boeing's commitment to assessing such concerns", Boeing says. "Company executives and senior leaders on the 737 programme were made aware of Mr. Pierson's concerns, discussed them in detail, and took appropriate steps to assess them."