Our website has a fresh look and feel, putting content at the heart of flightglobal.com. Whether it's on desktop, tablet or mobile, it's now easier than ever to find our award-winning news, analysis, interviews and in-depth coverage.
All our news and analysis is free on flightglobal.com, but make sure you don't miss out on anything by registering to ensure you are seeing everything. Its absolutely free to register for flightglobal.com, only takes two minutes and gives you full access to our analysis, comment and long-read content.
If you are an existing registered user of flightglobal.com or are signed up to our newsletters, there is no need to re-register. But you will need to reset password, so please follow the prompts on the screen which will come up when you first try to access registered content on flightglobal.com. Alternatively you can reset your password here.
New features for registered users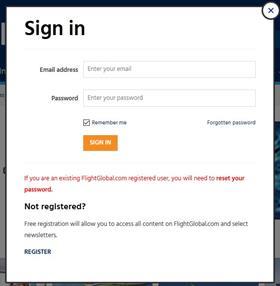 Logged in users now have the option to save articles to their own personal library, easily and quickly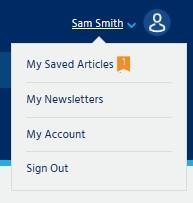 Our weekly newsletters are a great way for you to be alerted by email when we publish new articles. Simply select the newsletters you would like to receive and stay up to date with everything happening in aviation
Access to our in depth content, analysis, reports and opinions exclusively available to registered users
Information about our portfolio of industry-leading conferences and events
Our online jobs service provides the best aviation jobs from around the globe, plus the latest aviation careers advice to help you secure your ideal new job
For new users, register here
Our team of journalists around the world cover the the big issues across the aerospace industry, from breaking news to deeper insight on the trends and developments shaping this industry. We have dedicated news sections covering airlines, commercial aircraft programmes, operations and safety, defence, business aviation, MRO and interiors and much more. Our editors pick out some of the biggest topics with dedicated story-streams and there is access to more than 20 years worth of our articles by searching our online archive.
Enjoy the website, look out for plenty of new features and functionality coming to flightglobal.com in 2020 and please contact us if you are having any trouble accessing the site or want to know more at support@flightglobal.com.
Regards
Graham Dunn
Executive editor, FlightGlobal