Following a major US government contract award related to Lockheed Martin F-16s for foreign military sales customers, Beijing has released information about a glide weapon designed to attack airbases.
On 14 August the US government announced that Lockheed had received a 10-year contract worth up to $62 billion for new-build F-16s for foreign military sales customers.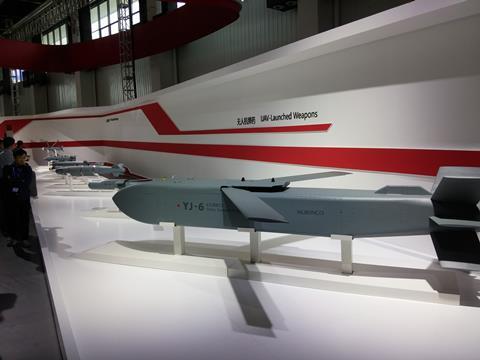 The initial package is for 90 aircraft. Though initial customers for the single-engined fighter were not named, media reports suggest that the package includes 66 examples for Taiwan, as well as 24 for Morocco.
In March 2019, the US government approved the sale of 25 F-16C/D Block 72 jets to the Royal Moroccan Air Force, followed by approval for Taiwan's long-awaited 66-jet deal last August. The price of the Moroccan deal was originally pegged at $3.8 billion and the Taiwan deal at $8 billion.
US weapons sales to Taiwan invariably draw the ire of Beijing. It claims the democratic island as a breakaway province, and has not renounced using force to unify it with the Mainland.
While Chinese media outlets have not directly addressed the Lockheed contract, state-run news outlet Global Times referenced the deal in a story about a new stand-off weapon designed to attack airbases with bomblets.
"Foreign media reported on Saturday that the island of Taiwan has officially signed an agreement with the US to buy 66 F-16V fighter jets," said the Global Times story.
"Chinese mainland military analysts said that if a reunification-by-force operation breaks out, the PLA would destroy Taiwan's airfields and command centres, giving the F-16Vs no chance to even take off, and giving those already in the air no place to land."
The report, citing Chinese state television, said the new weapon was designed by state-run weapons firm Norinco, weighs 500kg (1,100lb), and uses winglets to glide over 32.4nm (60km) to a target. Upon arriving it can deploy 240 submunitions over an area of 0.6ha (1.5 acres). It did not give a designation for the weapon.
In addition to destroying airfields, the weapon can be used against armoured formations. Apparently it can be carried by fighters such as the Shenyang J-16 and Xian JH-7, as well as Beijing's versatile Xian H-6 bomber.
At the Airshow China event in Zhuhai in recent years, Norinco has displayed a glide weapon designated YJ-6, with the description "500kg Satellite-Guided Cargo Aerial Bomb."
Should a conflict occur in North Asia, analysts believe Beijing would seek to destroy rivals' ability to generate airpower by attacking vulnerable air bases with both ballistic and cruise missiles. A weapon capable of using bomblets to attack airbase infrastructure is consistent with this strategy.
In addition to obtaining 66 new F-16C/D Block 72s, Taiwan is also upgrading its fleet of 144 F-16A/B fighters to the F-16V standard, which is the equivalent of F-16C/D Block 72. Lockheed has a major role in this work, which is being undertaken locally by AIDC.
In July, Beijing said it would impose sanctions on Lockheed, citing the US company's sale of Patriot surface-to-air missiles to Taipei.