Perhaps more than any other Boeing aircraft in development, the 737 Max 7 encapsulates the airframer's difficulty in moving past high-profile problems that have plagued it in recent years.
And no aircraft's certification pathway better illustrates the high-scrutiny regulatory environment Boeing now operates within, Mike Fleming, Boeing's senior vice-president for commercial development programmes and customer support, told a gathering of reporters on 31 May in Charleston, South Carolina.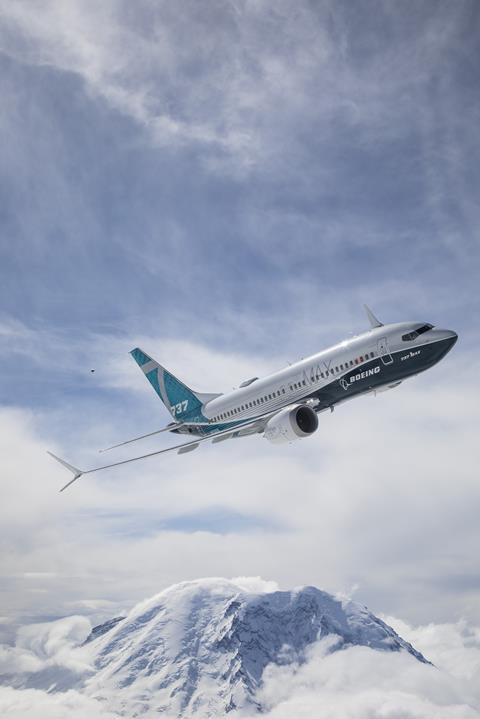 "It is taking us a considerable amount of time to get this airplane certified – longer than a lot of people anticipated, including me," Fleming says. "I did not see [certification] moving into this year at all. Candidly, a couple of years ago, I did not see it moving into last year." However, he adds that "we still anticipate having the airplane certified this calendar year".
But as the Arlington-based company heads into this week's Paris air show, its likelihood of satisfying the Federal Aviation Administration's requirements and achieving certification of the already much-delayed Max 7 before the end of 2023 is in question.
The smallest of Boeing's family of next-generation narrowbody jets, the Max 7 is only a slight variation of the Max 8 and 9. It has a smaller cargo compartment and modest modifications to the environmental control system (ECS) that pressurises the cabin, Fleming says, representing "no real appreciable change" from already-certificated Max variants.
But the Max 7's entry to passenger service has been repeatedly delayed since the type's first flight in March 2018, as the Max programme has suffered a variety of quality and production issues and two catastrophic accidents – the crash of a Lion Air Max 8 off Indonesia in October 2018 and of an Ethiopian Airlines Max 8 in March 2019. The crashes killed 346 people.
Chief executive David Calhoun says Boeing has owned up to its mistakes with the Max programme, pointing to its $2.5 billion settlement with families of Max crash victims and airline customers, and also Boeing's transparency as it attempts to smooth out its stop-and-start 737 and 787 production programmes.
Asked whether the flying public still doubts the safety of Max aircraft in the aftermath of the accidents, Calhoun told reporters at Boeing's 787 production facility on 30 May that he accepts "the notion… that is still out there somewhere".
"I only know one way to resolve it – perfect transparency," he adds. "You get to know every day what we are wrestling with in our company. Our investors hate it… but we have to do it and I think we lead the world on that front."
After the FAA lifted the Max 8 and 9's grounding in November 2020, Boeing anticipated that both the Max 7 and Max 10 would be certificated by the FAA by the end of 2022. That timeline was pushed back in November of last year, when Boeing said it expected to clear the Max 7 by early 2023 and the Max 10 in early 2024.
Now, the company is just hoping that the Max 7 will be certificated before the end of the year. "We are down to a handful of documents," Fleming says. "[We] expect to get those done in the near future, and to be able to present everything to the FAA to allow them to go do their job and push forward and certify this airplane."
'CHANGE IN EXPECTATIONS'
Boeing cites new oversight requirements under US law as a major factor in certification delays. The Aircraft Certification, Safety and Accountability Act, passed by Congress in December 2020 in response to the Max crashes, places new requirements upon the FAA's certification process. The law also requires Boeing to provide far more technical documentation than under previous regulations.
Fleming describes a "change in expectations" and "differences of means of compliance" in the post Max-crash regulatory environment that have bogged down the process. Executives at other aircraft manufacturers, including business aircraft makers Textron Aviation and Gulfstream, have also cited heightened FAA oversight as forcing certification delays.
Boeing says certification of the Max 7 and Max 10 – respectively the smallest and largest in the narrowbody family – is critical to completing the aircraft lineup and competing with Airbus in the global narrowbody market. The Max 8 and 9 still represent the "heart of the market", however, says Darren Hulst, vice-president of commercial marketing at Boeing.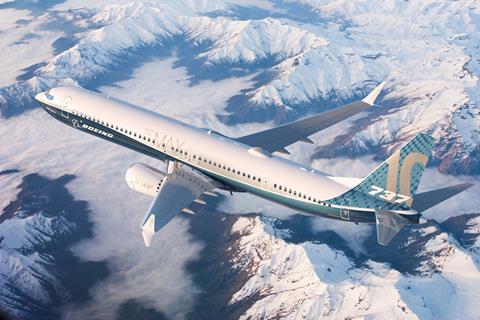 The yet-to-be-certificated Max 10 is being produced as an answer to the A321neo. Three Max 10 test aircraft have flown nearly 400 flights and 850 flight hours, Fleming says. "We have done just about everything we could do, [and we] are close to getting FAA approval to start flying certification flights…. The airplane itself is performing very, very well."
Despite basically being a stretched-out variant of the Max 8 and 9 with larger landing gears and an ECS modified to the scale of the aircraft, certification of the Max 10 is also likely to take longer than expected due to the FAA's new documentation requirements.
Boeing hopes to begin certification flights for the Max 10 this year and achieve an amended type certification in 2024, but that timeline could be pushed back.
"There have not really been any considerable technical issues associated with the changes we have made to these airplanes which have created schedule problems for us," Fleming says. "It is really just about getting the documentation."
Boeing also has a widebody jet moving through FAA certification – the 777-9. As the only next-generation 400-seat jet poised to enter the market this decade, Boeing believes the opportunity is ripe for 777-9s to replace four-engine jets such as 747s and Airbus A380s, becoming the "large aircraft of the future".
"What is it going to compete with?" Calhoun says, noting A380s and 747s are no longer produced. "The 777 will be there by itself in what I think is a reasonably large market."
The company anticipates 1,000 medium-to-large widebody aircraft will need to be replaced by 2036, including freighters. The airframer has also submitted a certification application for the cargo variant, the 777-8 Freighter.
Boeing holds a modest 353 orders for its 777X family of widebodies, which includes 777-9s, 777-8Fs and a third variant, the 777-8 passenger aircraft, development of which Boeing has paused.
To date, 777-9s have logged nearly 1,000 test flights and 2,800 flight hours. For comparison, 787 Dreamliners flew about 3,500h before certification.
"We are nearing the total amount of flight hours we flew on the entire 787 programme," Fleming says. "We expect to go probably about 1,000h over that for the [777-9] programme."
Boeing has also repeatedly pushed back the 777-9's service-entry timeline, again citing increased regulatory scrutiny. It now expects the jet to be certificated in 2025, with deliveries beginning soon after. Boeing aims to deliver the first 777-8F in 2027.
BRACING FOR CHANGE
Although much of Boeing's attention is focused on certification struggles, the airframer is also turning toward the future of air travel.
Boeing's next clean-sheet aircraft design – which is not likely to enter service before the mid-2030s – cannot be an "incremental" improvement over the 737, Calhoun says.
He points to Boeing's partnership with NASA to develop the X-66A, a demonstrator of a truss-braced-wing narrowbody jet. Such a design could help make the next generation of single-aisle commercial aircraft 30% more efficient. The conceptual aircraft is scheduled to begin a year-long flight-test programme in 2028.
The programme began as a wind-tunnel experiment in collaboration with NASA, Calhoun says, and has turned into building a "real airplane, watching it fly and hopefully, by 2028, proving to ourself that it can actually do the job", Calhoun says.
"This transonic truss-braced wing is a very important technology to us as we go forward," Calhoun says. "We think we have a real shot at bringing that technology to bear on the next airplane."
"The technology allows for us not just to get more out of the wing aerodynamics but also the engine that sits under it, because it provides for a bigger bypass," he says. But the design would "not lend itself to something at the high end of seat capacity", Calhoun adds, seemingly ruling the technology out for use in future widebody jets.
Whether it adopts the truss-braced-wing design for the 737's eventual replacement, Boeing intends to apply its knowledge of carbon-fibre composites, gained through producing Dreamliners.
"We are simply going to continue to progress with the technologies that we have available to us," Calhoun says. "It is hard for me to imagine us not taking full advantage of everything we have learned on advanced composites…. I have no doubt that will play a pretty significant role."
The company is also developing advanced flight-control technologies for commercial aircraft, "including something as close to autonomous as we can conceivably get".
Calhoun says it often takes decades to develop "a meaningful airplane that makes a difference for a long period of time", and a long-term vision is necessary if Boeing is going to continue shaping the future of aerospace.
"I worked on a composite matrix for the engine on the 777, and it was designed for the airplane that we will introduce in two years. We started working on that in the late 1980s," Calhoun says. "These have to be 50-, 80- or 100-year programmes."