Silicon Valley-based air taxi developer Kittyhawk has decided to close its doors after more than 10 years.
"We have made the decision to wind down Kittyhawk," the aviation technology company writes in posts on Twitter and LinkedIn on 21 September. "We're still working on the details of what's next."
The company did not respond to a request for comment, and no further information is immediately available.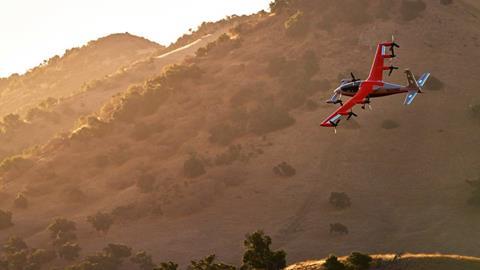 Kittyhawk was founded as Zee.Aero in January 2010, supported by Google parent Alphabet's co-founder Larry Page. The company presented its single-seat Flyer design in 2014, followed by a semi-autonomous two-seater aircraft, Cora, in 2018. In 2019, Kittyhawk ended Flyer and joined up with Boeing to create a joint venture – Wisk Aero – to further develop the Cora.
In 2019, Kittyhawk unveiled Heaviside H2, an eight-rotor electric-powered aircraft that the company said had a range of about 87nm (161km) and could fly over cities at speeds up to 156kt (290km/h).
On its website, the Palo Alto-based firm says by 2021 it had built "more than 16 H2 vehicles, with hundreds of flights between them". It touts Heaviside's "experimental success".
A 2022 milestones included its "first commercial air taxi vehicle".
"[The vehicle] will demonstrate the features that make Kittyhawk's strategy unique in the industry: remotely piloted; smaller, lighter and quieter than any other eVTOL air taxi; able to safely take-off and land almost anywhere," the website says.
Kittyhawk's targeted travel cost was "less than $1/mile" – cheaper than rideshare services and one-third the target of other air mobility vehicles, it has said.
Wisk Aero remains in business. In July, Wisk said it expects to unveil the production version of its electric vertical take-off and landing (eVTOL) aircraft – the sixth generation of its air taxi – in the coming months. It plans to bring that version through US Federal Aviation Administration (FAA) certification, Wisk said.