Airport disruption is prompting more first-class airline passengers to switch to private aviation, continuing a trend that began during the pandemic.
That is according to Bombardier, whose chief executive Eric Martel says the shift is boosting fleet charter operators, a core customer base for the Canadian manufacturer.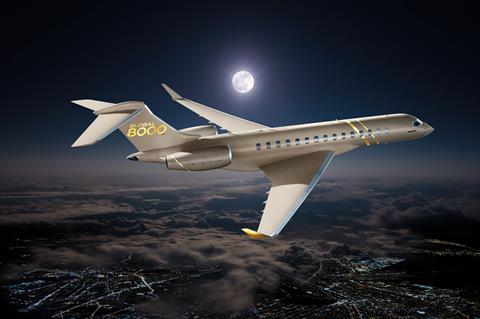 He says the drastic reduction in airline services during 2020 and 2021, followed by operational challenges at airports caused by a rapid rebound in demand, have been "accelerators" for business aviation.
Some of those "who can afford it" are opting to buy their own aircraft, he says, but most are choosing either ad hoc or block charters.
Reporting its second quarter results on 4 August, Bombardier – a pure-play business aviation manufacturer since 2020 – says it remains on track to deliver "more than" 120 aircraft this year, after handing over 28 units; 16 Globals and 12 Challengers, during the period.
Like many aerospace companies, Bombardier – which launched its longest-range jet, the Global 8000, in its latest guise at the EBACE convention in May – is worried about its supply chain, especially risks to engine shipments. Martel says this has prompted it to remain "conservative" on ramp-up projections. However, he is confident the company can achieve a 15-20% increase in deliveries in 2023.
Bombardier's backlog has risen 37% year-on-year to $14.7 billion, with a unit book-to-bill ratio of 1.8 in the second quarter. The company is keen that waiting times for new jets do not stretch much beyond two years.
Martel says the company would consider acquiring suppliers if there are concerns over critical components. "We will remain vigilant on securing our supply chain", he says, although he stresses that Bombardier's "priority is repaying debt".
A series of strategic missteps over the past decade and a half, including launching the then-CSeries narrowbody airliner, saw Bombardier borrow record amounts, forcing it into a series of divestments. However, the company says it is steadily reducing its debt, with a further $375 million repaid during the second quarter. "Our debt reduction strategy is ahead of plan," says Martel.
The 8,000nm (14,800km)-range Global 8000 is on track to enter service in 2025. Its top speed of Mach 0.94 will make it the fastest business jet on the market, says Bombardier.
The company's other new type, the Challenger 3500 – an update of the Challenger 350 – is on track for entry into service this quarter, says Bombardier.