Urban air mobility developer Archer Aviation has unveiled a prototype of an all-electric vertical take-off and landing (eVTOL) vehicle that it hopes have certified and enter into service by 2024.
During a launch event at Los Angeles-area Hawthorne Municipal airport on 10 June, the Palo Alto, California-based company presented a full-scale model of its aircraft, called "Maker".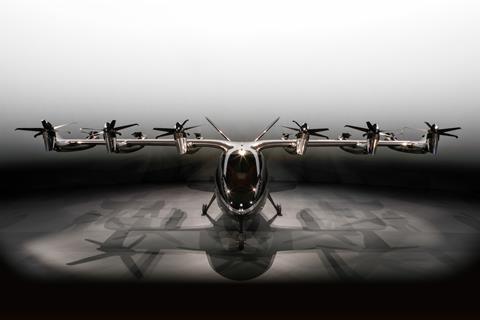 Maker represents the company's goal of developing a "high throughput transportation system for the masses", says co-founder and chief executive Brent Adcock.
The prototype autonomous aircraft, which carries the registration N301AX, is a two-seat demonstrator designed to serve as a testbed for certification purposes. The body has two gull-wing doors and a V-tail.
Its 12 wing-mounted rotors - six on the leading edge, which appear to be tiltable, and six on the trailing edge - are powered by six independent battery packs totaling 100hp (75kwh).
Adcock says the aircraft is built to tolerate an entire battery pack system failure or two motor failures without compromising safety.
Maker has a top speed of 126kt (240kmh) and a range of 51.8nm (96km), Archer says. The aircraft's sweet spot, however is in the 10.8-21.6nm range journey, so that the batteries do not have to be fully charged for every trip.
While on the ground, the batteries will be "fast-charged" in about 10 minutes and the aircraft is designed to complete up to 40 flights every day, Adcock adds.
The company claims the aircraft will be "100 times quieter than a helicopter" and therefore "inaudible while flying overhead".
Archer hopes to fly Maker by the end of the year, Adcock says. The version which the company hopes to certificate by 2024 will have four seats and will be piloted. The company has said that launch cities for the aircraft will be Los Angeles and Miami.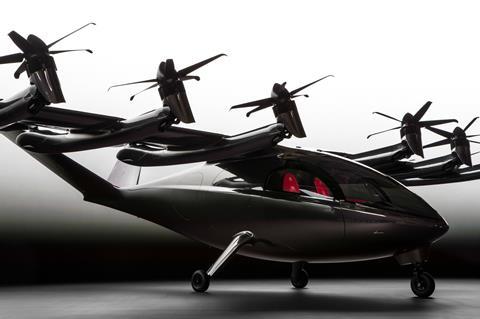 In February, Chicago-based United Airlines said it intends to buy up to 200 of Archer's urban air mobility aircraft. At the time, United said that it will acquire the aircraft once they are in operation and have met its "operating and business requirements".
United's orders have an aggregate purchase price of $1 billion, and the airline has taken options for another $500 million in orders, according to securities filings.
LEGAL BATTLE
Archer is currently locked in an acrimonious legal battle with competitor Wisk Aero, which claims Archer is developing its aircraft based upon company secrets and "proprietary information" allegedly stolen by a rogue engineer before he left Wisk for Archer.
Boeing-backed Wisk, based in Mountain View, California, sued Archer on 6 April in US District Court for the Northern District of California.
Archer, in turn, countersued Wisk in June, and asked a federal judge to award damages stemming from Wisk's April lawsuit. Archer also asked the judge to throw out Wisk's suit, calling it "entirely baseless".
Wisk's 12-prop, two-passenger in-development aircraft, called Cora, has 22nm range and can reach speeds of about 86kt, the company says. Wisk intends to begin a trial programme in New Zealand this year, through which it eventually aims to conduct passenger eVTOL flights.