Archer Aviation is seeking $1 billion in damages from air taxi rival Wisk Aero in an increasingly acrimonious legal fight about stolen trade secrets.
In a filing with a California district court on 10 August, Archer says Wisk "deployed a knowingly false extra-judicial smear campaign that projected stand-alone defamatory statements about Archer to the world". It goes on to say the rival firm's claims "have the plain purpose of impeding Archer's business at a critical juncture for the company".
Archer adds that Wisk's public statements have caused "substantial damage", including making it more difficult for the Palo Alto, California-based electric vertical take-off and landing (eVTOL) aircraft company to access capital, and hurting business relationships.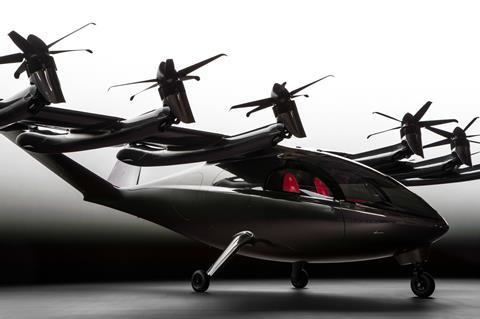 The two Silicon Valley firms have been locked in a high-stakes legal battle since April, when Boeing-backed Wisk sued Archer, alleging patent infringement and trade secret theft. Wisk claimed outgoing employees – bound for Archer – stole design documents which they turned over to Archer. Wisk is also developing an eVTOL.
"We have shown that Wisk's claims against Archer are false and nothing more than an attempt to stifle competition," Archer says on 11 August. "If Wisk persists in going to trial, we will defeat them in court and immediately sue them for malicious prosecution. But even if Wisk drops its claims at this point, we will continue to seek damages for its illegal and equally baseless campaign to publicly smear our company outside of court."
Archer counter-sued its Mountain View-headquartered rival two months later, asking a federal judge to award damages stemming from Wisk's April lawsuit. Wisk then asked for an injunction to prevent Archer from continuing work on its prototype. In July, the court dismissed Wisk's motion.
For its part, Wisk says Archer's demands for compensation are "ludicrous" and the company's "troubles are self-inflicted".
"Archer's filing is full of distortions and distractions from the serious patent and trade secret misappropriation claims it faces," Wisk tells FlightGlobal on 11 August. "We will vigorously pursue our case in court to prevent Archer from basing its business on Wisk's decade-plus record of investment, insight, and innovation in the eVTOL industry."
MAKER VS CORA
Last year, Archer released details of a four-passenger eVTOL it said would have 52nm (96km) range and fly at 130kt (240km/h). In February 2021, United Airlines committed to purchasing 200 of the aircraft.
Archer unveiled a two-seater prototype demonstrator aircraft, called "Maker", in June, designed to serve as a test-bed for certification purposes.
The vehicle has two gull-wing doors and a V-tail. Its 12 wing-mounted rotors – six on the leading edge, which appear to be tiltable, and six on the trailing edge – are powered by six independent battery packs.
Archer has said it plans to fly Maker by year-end and to begin commercial service by 2024. The company insists it developed its design with wing-mounted rotors "through a leading eVTOL independent consultant before any Wisk employees ever joined Archer".
Meantime, Wisk's 12-propeller, two-passenger aircraft, called "Cora", has 22nm range and can reach speeds of about 86kt, says Wisk's website. Wisk this year intends to begin a trial programme in New Zealand through which it eventually aims to conduct passenger flights with Cora. Wisk says it has conducted 1,500 test flights with full-scale aircraft.
Updated on 11 August to add comment from Wisk Aero.