During the summer months in North America, the aviation industry calendar is packed with events, air shows, conferences and trade fairs. The Experimental Aircraft Association's (EAA) AirVenture in Oshkosh, Wisconsin is granddaddy to them all.
Every year, more than 600,000 attendees descend on the small Midwestern town. They include aviation enthusiasts, pilots and representatives from universities, airlines, government agencies, the US military and aerospace manufacturers, from producers of small general aviation aircraft and global players like Airbus, Boeing and Embraer.
For one week at the end of July, Oshkosh's Wittman Regional airport becomes the "busiest airport in the world", according to show organisers, with more than 10,000 aircraft arriving and then departing a few days later. Many pilots camp under their parked aircraft, braving thunderstorms, even tornados. EAA calls it "the world's largest general aviation gathering".
"You get everybody here," says Pratt & Whitney Canada's Nick Kanellias, vice-president for general aviation. "It's not just business-to-business, but also business-to-consumer."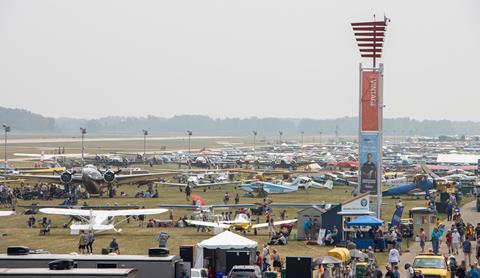 "The great part is, there's such a passion in general aviation that you don't find elsewhere. And this why we're here," he adds. About one-third of the company's team at this year's show in Oshkosh is attending for the first time.
"Many of them are saying, 'I cannot believe how different this is'" from large international shows like those in Paris and Farnborough, Kanellias says. "We want them to be out there and see this, understand it, embrace it, come and take part. And that's why we give them this opportunity. They are thriving on this."
Icon Aircraft, builder of the amphibious light sport A5, is expecting to close contracts for at least eight aircraft at the show. The company has brought two examples to a nearby lake to give customer demonstration flights. The flight opportunities are booked solid for five full days.
Chief executive Jerry Meyer says that while the company's next available delivery dates are in March 2024, Icon has reserved eight production slots for customers who, if they sign on the dotted line at Oshkosh, can get aircraft sooner.
"It's also an opportunity to continue to develop our partner relationships," Meyer says. "I'm meeting with different vendors. We're looking at some new projects in the future, for example maybe replacing different digital gauges."
"There are vendors here selling everything and anything for aviation," he adds.
Advanced air mobility projects are playing an increasingly larger role at the show, which is well-known for its vintage, homebuilt and World War II-era aircraft.
For VoltAero chief executive Jean Botti, the main goal of showing off the company's Cassio 330 at Oshkosh for the first time in North America is "awareness and attraction".
Not only is he trying to convince potential individual customers of Cassio's viability and capabilities, he is also looking for US companies who will help make it a success on this side of the Atlantic. VoltAero is headquartered in France.
"We are looking for partners in the US that will be able to build this plane for us," he says. "It's going to be the biggest market in the world so we need strong partnerships."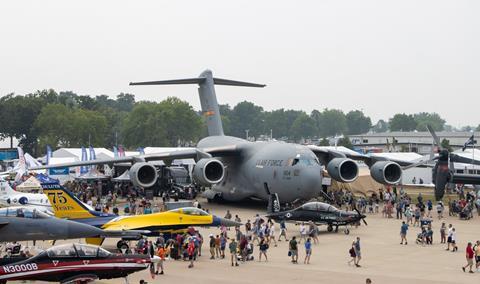 Miguel Marmol, vice-president of engineering at Magnix, says he has attended Oshkosh for a decade and is heartened to see the industry embrace electrification.
"There was nothing electric before, and now you will notice all the eVTOLs around, and you know there's a lot more going on in the field," he says. "It's cool to see that evolution. It tells you that the technology is viable and more and more people are seeing it."
Silicon Valley-based air taxi developer Wisk is displaying its sixth-generation aircraft for the first time on US soil at a booth near the flight line, after debuting it publicly at the Paris Air Show last month. Chief executive Brian Yutko is excited about the buzz the aircraft is creating.
"We were really happy to be [in Paris] and display there," Yutko says. "But the primary audience there is aerospace executives. Here, you see just the wonder in the eyes of the general public and the people who show up and just say, 'Oh, my God', and then they sit in it or they ask questions about how it works and how safe is it."
"That's been a really fun juxtaposition – professional aerospace and then the general public, the aviation enthusiast," he adds. "And it's not just aviation enthusiasts here. Oshkosh is the Mecca of pilots. So engaging with pilots on autonomy has been really fun."