Gulfstream's backlog is now at its highest for six years as the airframer continues to benefit from a resurgent market for business jets.
Order activity has been strong all year, Phebe Novakovic, chief executive of Gulfstream parent General Dynamics told a third-quarter earnings call on 27 October.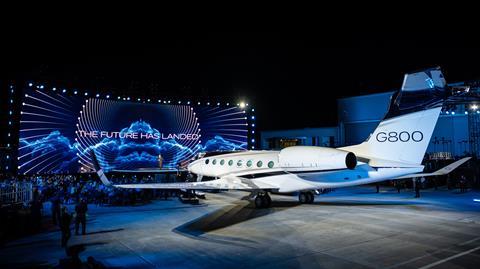 "As previously discussed, sales activity truly accelerated in the middle of February and continued on through the remainder of the first quarter.
"The pipeline that developed in that quarter rolled over into the second quarter and increased demand continued through the third quarter."
For the three months ended 30 September, Gulfstream recorded a book-to-bill ratio of 1.7 and the "backlog this quarter is the highest in the last six years", says Novakovic.
Although the airframer handed over one fewer jets than planned in the period, delivery of that aircraft has been pushed into the final quarter of the year, increasing to 40 shipments scheduled for the current period.
That figure includes 20 G500/G600s, adding to the 131 examples already handed over to customers. "These are the metrics of a successful programme building further momentum," says Novakovic.
Meanwhile, the in-development G700 has accumulated 1,800 flight hours across five test aircraft. The long-range twinjet remains "on track" to achieve service entry in the fourth quarter of 2022, with the newly launched G800, an ultra-long-range derivative that uses the same Rolls-Royce Pearl 700 engines, to follow six to nine months later.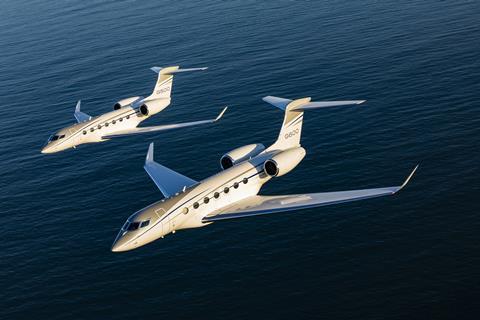 Novakovic cautions that as the company ramps production back up following Covid-19-related decreases last year, there will be "challenges" due to pressure on suppliers, particularly into 2022. However, she is confident the company will "manage" them, describing the situation as "a rich problem to have".
The issues primarily relate to lead time, she says: "The fact that we spooled down last year adds a little bit of headwind to the increase in production that we see on a going forward basis.
"But, I don't see any particular problems at the moment impacting that. This is really just a timing issue and getting folks back up to speed."
Production is likely to increase in 2022 and 2023, she adds.
Gulfstream in early October launched two new jets: the G800 and large-cabin G400, which is due to enter service in 2025.
General Dynamics' aerospace business, which also includes Jet Aviation, recorded revenue of $2.1 billion in the quarter, up 4.6%, or $91 million, on the same period in 2020. Operating earnings stood at $262 million, down $21 million year on year.