Boeing Business Jets (BBJ) has unveiled "BBJ Select", a new offering which allows potential customers to configure aircraft through a modular concept, and simplifies and accelerates the purchasing process.
"We've streamlined the engineering, the design, the build and installation processes," BBJ president Joe Benson said ahead of the National Business Aviation Association's exhibition in Las Vegas on 16 October.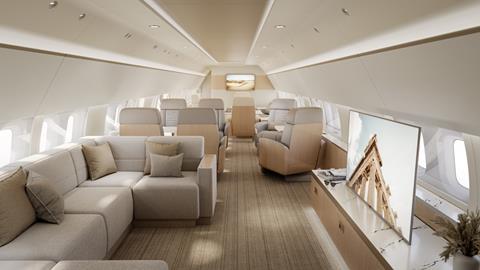 "We accomplish this through custom modules that customers can select, throughout different zones in the aircraft, and all of this also enables us to not only compress the overall completion timeline, but also to drive out one-time costs and pass those savings on to our customers, so as to offer this completed turnkey BBJ at a very attractive fixed price," he adds.
The BBJ Select offering will be available on the US airframer's 737 Max 7 aircraft, and first deliveries are expected in 2026.
BBJ is working with partners ALOFT Aero Architects and Greenpoint Technologies to make this new service available to potential customers. The two companies already have ample experience of completion work on the Boeing jets.
To shave time off production, Americas sales director Drew Gough says, pre-engineered aircraft interior modules and auxiliary fuel tanks will be installed concurrently.
The company is offering 144 interior layout options in three colour palettes, with additional material choices within those colour schemes, Boeing says. "It's likely we never build two identical BBJ Select airplanes," Gough says.
While the most forward and rearmost sections of the aircraft are fixed – with a crew rest area and lavatory in front and a stateroom and ensuite bathroom in the rear – the four zones in the middle of the aircraft are open to customisation with the modules. The designs range from plush sofas and divans for a more leisurely travel experience, to more formal business environments with working space and conference table options.
The aircraft's forward lounge can be configured with six lie-flat pod seats, similar to business-class or first-class seats on commercial airliners.
"Contrast that to the experience that so many passengers have aboard ultra-long-range business jets; the ultra-long-range business-jet experience can be worse," Gough says. "The principal at the back has a private place to be, but… other senior executives might be spending an eight-hour flight staring fellow passengers in the face or sharing a four-inch armrest for a 12-hour mission."
The company is offering BBJ Select exclusively for the Max 7, and in addition to the traditional purchasing process of a completely bespoke aircraft which BBJ has been offering for 27 years, the company says.
While Boeing has launched the product at NBAA, it has been planning the offering for "quite a while" and has "generated some interest", says BBJ president Benson.
"We've had conversations with customers and they're very excited about it," he adds, declining to say if orders have been placed.
BBJ has delivered 250 VIP Boeing aircraft, of which more than 160 were the 737 model.