Boeing Business Jets' new president has made an instant impact at EBACE revealing that his team has landed orders and commitments this year to sell four VVIP-configured airliners, including its first BBJ 777-9.
"What I love about our orders is the diversity," said Joe Benson in Geneva on 22 May. "We have each part of our family represented in those orders and commitments."
Benson was appointed as BBJ's president on 8 May, stepping into a role held, for slightly less than a year, by Erika Pearson who has switched to a new post in Boeing's commercial unit.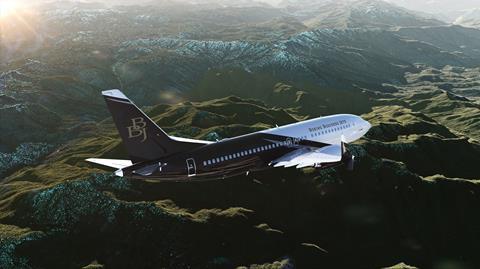 "One of the things I bring to the job is continuity and stability," says Benson, who joined the company in 2010 and previously was BBJ's deputy to the president and business director. "There's been some turnover recently… This is my dream job."
The four BBJ commitments taken this year include orders for one BBJ 737 Max 7 and for two BBJ 787s, while another customer took an option to purchase one BBJ 777-9.
Boeing declines to name the customers but Boeing says buyers of large BBJs like 777-9s tend to be governments, which use the aircraft for head of state transport.
Neither the 737 Max 7 nor the 777-9 – the commercial aircraft on which the BBJs are based – has yet been certificated. Boeing expects the Federal Aviation Administration will clear the narrowbody this year and the widebody in 2025.
The BBJ 777-9 will have more than 300sq m (3,229sq ft) of cabin space and be capable of flying "to anywhere to everywhere in the world", says Boeing marketing director Alexis Fecteau.
He says business jet traffic in Europe this year is down about 8% from 2022 but remains up 6% on 2019 levels.
"It makes us think that the business jet improvement in numbers is going to be persistent," Fecteau says. "Once you go private, it's really hard to go back."
Fecteau says a BBJ 737, despite being significantly larger than a dedicated business jets like a large-cabin Gulfstream, has lower direct operating cost – a function the 737's vast commercial success. "We have massive economies of scale," he says.
As an example, operators might pay about $12,000 to replace a BBJ 737 Max's windscreen, versus $61,000 for a windscreen on a dedicated large-cabin business jet.