Bombardier and De Havilland Canada unionised workers at the Downsview production site in Toronto are on strike, a move coming amid contract negotiations and as both companies work to wrap up their Downsview presence.
Downsview is home to Bombardier's Global business jet production facility and De Havilland's Dash 8-400 production site.
Neither company has said how the strike, which involves members of union Unifor, is impacting its operations.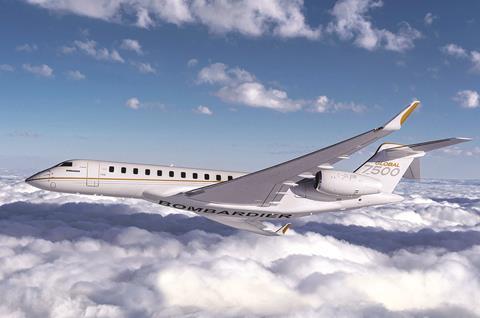 The work action started at 10:00 local time on 27 July, when a negotiating deadline expired. It includes all Unifor members who work for both companies at Downsview – 700 De Havilland workers and 1,500 Bombardier employees, Unifor says.
Bombardier says Unifor actually represents about 1,200 of its active workers.
"We will remain at the bargaining table with both companies as the strike action is ongoing," says Unifor national president Jerry Dias. "Our union will continue to make every effort to reach a fair settlement but we have a number of key issues to resolve with both employers."
Unifor has been negotiating new contracts with the companies as both prepare to move production out of the Downsview site ahead of the property owner's plan to decommission the Downsview runway in 2023. Bombardier has already decided to shift Global production to nearby Toronto Pearson International airport, with that site coming online in 2023.
But De Havilland's plan is unknown. Citing the pandemic, the company earlier this year said it would stop Dash 8-400 production by mid-year, once all existing orders were filled. Though, in recent days, De Havilland said production had not officially yet stopped. De Havilland has said it is committed to restarting Dash 8 production elsewhere but has not named a successor production site.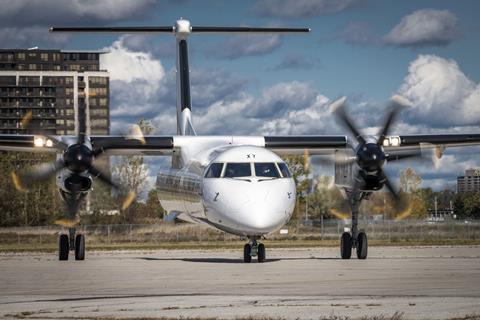 "The talks continue and we are focused on seeing the process through to an agreement," says Bombardier, noting its contract with Unifor is separate from De Havilland's. Both work groups had previously been under Bombardier prior to that company's 2019 sale of the Dash 8 programme to De Havilland. Prior to divesting the Dash 8, Bombardier had sold the Downsview site, then leased it back.
"Won't be able to speculate on production impact today… Our focus is first and foremost on reaching an agreement," Bombardier adds.
Unifor says negotiating sticking points with Bombardier relate to "pensions, use of contractors and erosion of bargaining unit work". Discussions with De Havilland involve "the future of the Dash 8 programme". Unifor has urged De Havilland to keep Dash 8 production near Toronto.
De Havilland, owned by Longview Aviation Capital, has made no such commitment. Longview and another one of its subsidiaries, Viking Air, are based in British Columbia.
De Havilland "is eager to collaborate with the union as we chart a sustainable long-term future for aircraft manufacturing and the skilled employment it supports," it says. "But the ability to work together toward a long-term future relies on a concerted effort to transform the business."
De Havilland adds that the Dash 8 programme needed restructuring long before the 2019 purchase. A new contract "must reflect the need to transform the company in the face of the global aviation industry's challenging operating context, the market environment for new aircraft and the fact that the Downsview production site had been sold".