Bombardier Aviation president David Coleal has been ousted as part of a top-level shake up at the Canadian aircraft and rail transportation manufacturer.
Eric Martel, who became president and chief executive of Bombardier in March, and whom Coleal himself succeeded as head of the business aviation division five years ago, says the move prepares Bombardier to be a purely business aviation company after the sale of its rail unit to Alstom.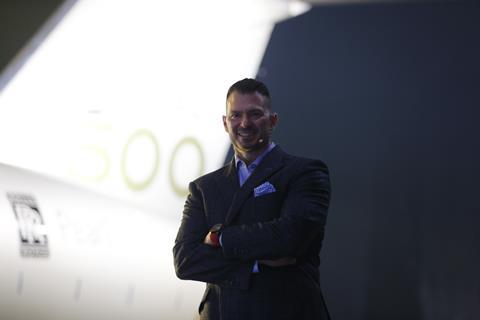 "Our goal is to create a leaner, more agile and customer-centric company to better capture growth opportunities with our industry-leading business jet portfolio. This include simplifying our corporate leadership structure," he says.
Coleal joined Bombardier in 2008 after roles at Cirrus Aircraft and Caterpillar, running the Wichita-based Learjet business. Between 2011 and 2015, he worked for Spirit AeroSystems as executive vice-president and general manager, before returning to Bombardier as president of business aircraft in 2015.
During his time in charge, Bombardier unveiled the Global 7500, the longest-range business jet on the market, and revamped the Global family by launching the re-engined 5500 and 6500.
The sale of the rail division followed a spate of sell-offs by the troubled Montreal-based company, which over the past few years has offloaded its former CSeries programme to Airbus, its Q400 regional turboprop to Longview Aviation Capital, and its CRJ regional jet business to Mitsubishi. It is also negotiating the sale of its Belfast-based aerostructures arm to Spirit AeroSystems.
In Bombardier's last financial year, the business aviation unit – which comprises the Global, Challenger and Learjet brands – had revenues of around $7 billion.