Bombardier chief executive Eric Martel is "totally comfortable" about hitting the company's 2023 delivery target of 138 aircraft, after today announcing second quarter results that show the Canadian business jet manufacturer's recovery on track.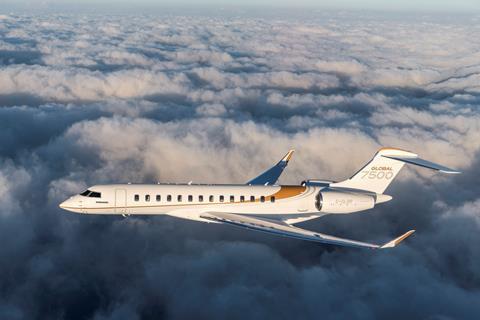 Martel hailed a strong aftermarket performance as a significant factor in an 8% year-on-year increase in revenues to $1.7 billion, and adjusted EBITDA up 37% to $275 million, a record margin of 16.4%.
Aftermarket revenues of $428 million are at a new high, up 19% compared with the second quarter last year, the result of a now-completed strategy to expand the in-house service network. In the past 18 months, Bombardier has opened hangars in London, Singapore and Melbourne, Australia, and is building another in Abu Dhabi.
Bombardier delivered 29 aircraft (14 Globals and 15 Challengers) in the first quarter, adding to 22 in the first three months. Although this means Bombardier must ship another 87 aircraft in the second half, business jet manufacturers traditionally enjoy their strongest quarter at the end of the year.
Martel says that with a book-to-build ratio of 1:1 and with no cancellations in the quarter, the "backlog is in good shape", and puts the 138-aircraft delivery target "in line of sight".
After a succession of big-ticket divestments in recent years – including its Belfast-based aerostructures division – as it battled to offload debts run up from the CSeries airliner (now the Airbus A220) programme, Bombardier last month acquired Latecoere's wiring business in Queretaro, Mexico. Transaction terms were not disclosed.
Acknowledging that supply chain pressures remain a challenge, Martel hints that this purchase may not be the last. "The supply chain will remain a key area of focus," he says. "Our success has been driven by focusing on what we can control, and we will integrate components back to Bombardier where it makes sense."
He also praised the contribution of large-fleet customers to Bombardier's progress, with flying hours for fractional and jet-card operations at a new high. The company's customers include Airshare, Flexjet, NetJets and VistaJet. "We are mutually committed to one another's success," he says.
Bombardier will this quarter open its new Global production facility at Toronto's Pearson International airport, replacing the final assembly line at the 1960s-era Downsview plant in the north of the city.