Bombardier has rolled out an avionics update programme for in-service Global-series large-cabin business jets that includes equipping the jets with a "combined vision system".
The so-called "Advanced Avionics Upgrade" is now available as an aftermarket modification for in-service Globals that have Bombardier's "Vision" flight deck, which is supplied by Collins Aerospace, Bombardier says on 30 August.
The Montreal company is offering the update for Global 5000s, 5500s, 6000s and 6500s. It already offers the features in new-production 5500s and 6500s.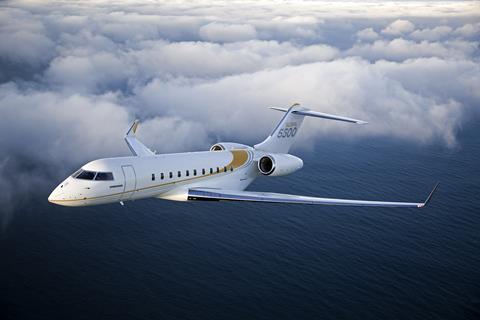 The "new avionics software and hardware enhancement… boasts the latest technology to enhance situational awareness and offer advanced visualisation features," Bombardier says.
The combined vision system displays a visualisation, on a head-up display, of the outside world. The visualisation is composed of both synthetic renderings of terrain and of infrared imagery.
It "integrates the best features of the synthetic vision system and the enhanced vision system in a single view to reduce crew workload and achieve unmatched situational awareness", Bombardier says.
The company will perform the avionics modifications at its service centre in Wichita.
The updates also include improvements to the jets' head-up displays, primary flight displays and synthetic vision systems, and a better messaging feature within the avionics' engine indicating and crew alerting system, Bombardier adds.
Operators can also have their jets equipped with automatic-dependent surveillance broadcast-in capability, "cockpit display of traffic information", an "airport moving maps" feature and a new weather radar with "vertical weather and predictive wind shear".